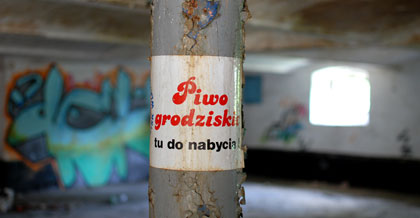 A sign* on a pillar in what was the malt house for the last brewery to operate in the Polish town of Grodzisk Wielkopolski indicates Grodziskie beer may be purchased here.
Well, not quite yet. However, renovation has begun at the complex, with plans for brewing to resume early in 2015.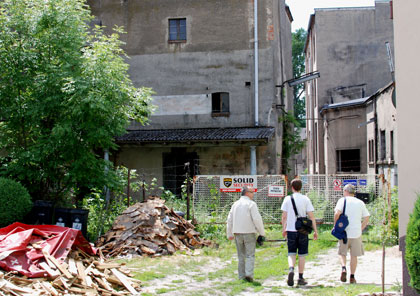 Daria and I visited the site last week along with Jan Szala, a member of the commission formed to revive the style, and Marian Bochyński. Bochyński has the largest collection of Grodziskie breweriana of anybody anywhere. Szala was last in the buildings, where brewing ended in in 1993, two years ago. He said they looked much more like a brewery then. Today every one is basically an empty shell.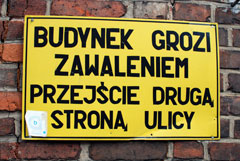 Grodzisk, home to about 14,000 people, is totally charming. Bochyński led us past three buildings in other parts of town that were once breweries. Grodzisk had 53 at the end of the eighteenth century and still five, all much bigger and selling their beer in far away posts, at the beginning of the twentieth. The warning sign to the right — Jan explained it basically says to stand away from the building because it is in danger of collapsing — is posted on the side of one of them.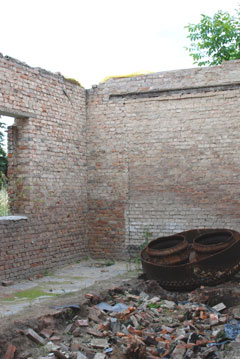 I'm not sure standing in the middle of this brewery in waiting if it is easier to envision what it once looked like or what it will look like. Jan shook his head as we walked away, saying he couldn't believe they'd be brewing only months from now. But it turns out he hasn't visited Browar Fortuna, about 100 kilometers to the east, recently. There the same four principals involved in Grodzisk have modernized a regional brewery that was slowly grinding to a halt.
When they took over Fortuna, founded 125 years ago, little more than three years ago sales had shrunk to 10,000 hectoliters a year. They don't generally talk about production figures but it seems they are on track to sell six to eight times that in 2014. Before we went to Miloslaw, I asked homebrewers about Fortuna and they said the beers tasted of iron &#151 the flavor, some say of blood, you get when you put a penny in your mouth. They need to taste the beers again. Almost bit of equipment involved in the brewing process has been cleaned up or replaced.
I have no idea if these guys will succeed selling a style of beer that died a natural death, but it's pretty clear that what they make will be well brewed.
There's a fascinating beer story unfolding in Poland. One that's not just about Grodziskie and one that deserves to be told properly, I think as my contribution to "Beer Trails." This will take some time, though not as long as rebuilding such a valuable piece of the past.
* Click on it to enlarge the photo at the top.