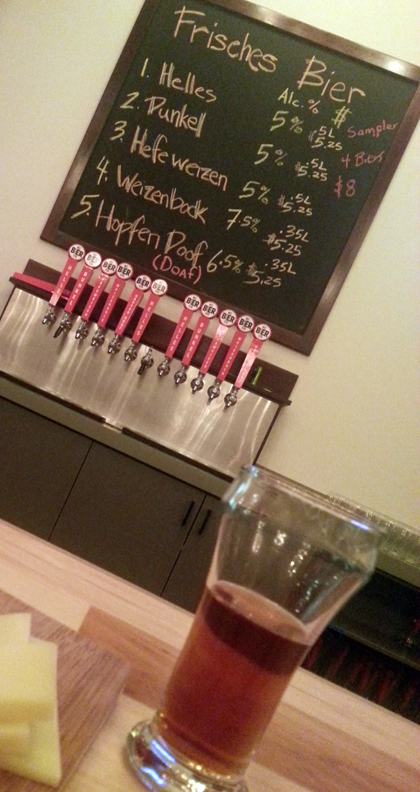 Monday Eric Sturniolo at Get Real Present laid out The Theory of Beervolution, explaining it through the lens of his experience. He begins with Becks, suffers through BMC, travels the path you'd expect and eventually "I reached the next, highest level of craft, the Westvleteren Apex."
And "Everyone in the Apex is a beer snob."
This left me thinking about two questions. Is there an apex and if so, what does that really mean? What is a beer snob, and am I one? I'm still thinking about them, but I've figured out this would be easier were I back at KC Bier Co. in Kansas City. We stopped in two Friday evenings ago after a quick drive across Missouri. Had things to do in Kansas City on Saturday.
The brewery opened only Feb. 11. Like Bier Station, a relatively new bar/bottle shop with a great selection, it is in the Waldo neighborhood. We don't know Kansas City well enough to understand its neighborhoods, but however we got to KC Bier it was definitely through a neighborhood. It is easy to envision people getting up from a comfortable swing on the porch, if the weather ever warms, and walking a few blocks to grab a beer bier and yak with friends. It already feels local.
Funny thing, the beer bier is very German — this may or may not make sense top you, but the lineup is like Urban Chestnut Brewing without much on the "Revolution" side of the menu. All the malt comes from Germany, and all the hops, save for a bit of Centennial used in Hopfen Doof, a dry-hopped alt. Even the pretzels come from Germany.
All the Bavarian hops are from the Seitz family farm. KC Bier founder Steve Holle intends to keep buying hops from Florian Seitz, and that may provide a recognizable anchor for the beer bier (KC Bier advertises it puts the "i" back in bier). At least that's the way I feel about place. (And, dang, I wouldn't mind tasting Centennial grown on the Seitz homestead.)
And the beers biers are excellent. Remembering the Dunkel, which totally hits the "reminds me of breadcrust" button, in my mouth I got to thinking about this apex thing. I really like Westvleteren 12, no doubt, but if I lived in Waldo and could walk to KC Bier I wouldn't go there to drink a beer that tasted just like Westvleteren 12. I'd go there to drink bier. (And because I live where I do, I can ride my bike through Forest Park to Urban Chestnut's new digs and do the same.)
So which is the apex? How do you know you are at the top, that there isn't another level? This isn't like climbing a fourteener. It is better.