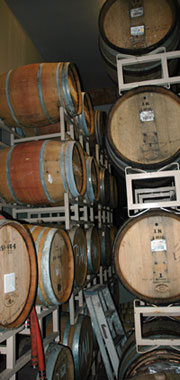 This is beer and food done right, mostly for the food and wine crowd.
Maybe precisely for that crowd since it is in the June issue of Food & Wine magazine (the grilling issue).
In "The Keg vs. the Cork in Sonoma" chef San Yoon of the Father's Office in Santa Monica, one of Southern California's first "good beer" bars, takes writer Ray Isle on a tour of Sonoma County breweries.
There are plenty of recipes, attractive photos of beer and food, and inviting descriptions of what the beers taste like. A picture of Yoon sitting on barrels at Russian River Brewing in Santa Rosa (rather small if you already clicked on the link above) is a striking full page in the magazine.
(A quick aside. The barrel room at Russian River isn't quite as sexy as the magazine makes it appear. The photo here is more what it looks like to the human eye on an average day. But barrels sure do give beer some razzmatazz. Imbibe magazine ran just a killer two-page picture of Jolly Pumpkin's Ron Jeffries in his barrel room in the its March/April issue. Barrels are suddenly [almost]) as cool as babes in T-shirts.)
Food and Wine even includes an online bonus: An interview with Russian River owner/brewer Vinnie Cilurzo.