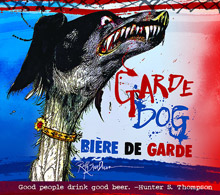 A while back I asked why breweries put some of their strongest beers in bigger bottles. Yes, they are nice to share with a friends, but sometimes you don't want 750ml of a 12% beer.
Additionally, smaller bottles can sell for less (even if the per ounce price goes up because we still have to pay for glass).
Enter Flying Dog's Canis Major series for 2008, which will be available in two versions. One mixed four-pack features a 12-ounce bottle of each the Canis Major style. The second option is a mixed eight-pack of 7-ounce bottles, two of each style.
Flying Dog is in a unique position to do this because when it acquired the former Frederick Brewing facility in Maryland last year it also picked up a bottling line that can handle 7-ounce bottles. That's because Frederick was brewing Little Kings — the cream ale in small green bottles familiar to those of us who grew up east of the Mississippi — under contract.
The Canis Major high gravity series includes Gonzo Imperial Porter, Horn Dog Barley Wine, Double Dog Double Pale Ale and a new beer, Cerberus Tripel.
These beers are not outlandishly strong, but each qualifies as a nightcap, when you might prefer to sip from a snifter.
As well as adding the tripel to its lineup in 2008, Flying Dog is making "Garde Dog" Biere de Garde its spring release. When these two are available I'll try to post drinking notes, perhaps at Brew Like a Monk.