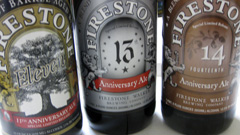 Friday I snapped a photo of the three bottles of Firestone Walker anniversary beers, posted them to posterous and promised drinking notes, an oath automatically repeated at Twitter and Facebook. A bad idea, and I can't even blame the alcohol since we hadn't poured any beer yet. Fact is I didn't take any notes and I'm not sure I'd have much new to tell you if I had.
You can find glowing adjectives all over the Internet, and I've already written about the process in detail, both here and in print. So a few brief observations:
– One of my friends at the table said he'd read some comments on the line that Eleven (released in 2007) had started to go downhill. Not the bottle we opened, at least to my taste. I have one left and will wait at least two years before opening it.
– Last year, when we pulled together bottles of Eleven, 12 and 13 we decided just two at a time was probably enough. We really should stick to that plan. The newest release and one older. Certainly they are different, more like cousins than siblings, but they also are 10% abv (if you are lucky enough to have squirreled away a 10) and stronger. Besides, it's a anniversary beer, one that a lot of work went into, and opening a single bottle seems to be a celebration unto itself.
– I sometimes struggle to explain what I mean when using the word texture to describe a beer. It's not just mouthfeel, but also the layers of flavors and aromas. The best way to understand what I mean it so drink one of these anniversary beers.
– The 14 (the newest, in case all these numbers we leaving you feeling a little lost) has a hop brightness not present since the 10. Will that change how the beer ages? Be patient.
Of course we talked about the beers as we drank them — even looked at the blending notes — as well as other things beer and things not beer. That's the way it should work.
When I got home I thought of the conversation I had with winemaker Matt Trevisan that became New Beer Rule 6 (The best beer was in the empty glass.)
Once again, I ran out of Eleven first. Dang, I'm going to miss that beer. It will be a tough last bottle to open.