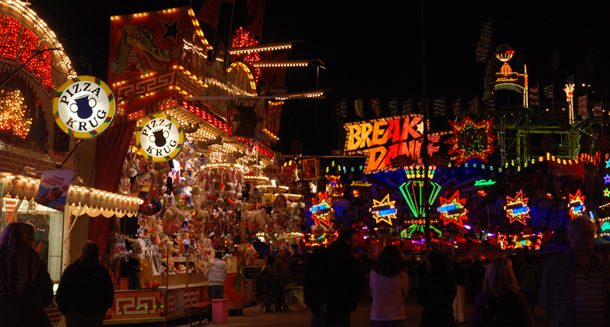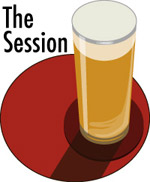 The topic for the 127th gathering of The Session is Oktoberfest lagers. At the risk of having my beer geek credentials revoked I must confess we have not been to Oktoberfest in Munich. We have been to Cannstatter Volkfest in Stuttgart, which began in 1818 and occurs annually at about the same time as the Munich celebration, and attracts four million visitors over the course of two weeks. Three of the beer tents accommodate 5,000, and smaller ones pack in thousands. Outside food and crafts vendors share the midway with rides more impressive than those at the average U.S. state fair or seaside boardwalk; witness the photo above.
We saw young Germans — you know, the ones who no longer find beer relevant — standing on benches lining long beer tables, hoisting one-liter mugs, banging them together, singing along to songs like "YMCA" and "Take Me Home Country Roads," boogying big time.
Earlier in the day we listened to brass bands like those you'd hear at Americanized Oktoberfest celebrations, playing traditional German tunes. After about every fourth song the afternoon bands stopped to sing "Ein Prosit" and lead thousands of revelers in a toast. Ohlala-Partyband, the group on the stage when the drinkers were on the benches, followed the same formula, but then quickly returned to belting out another pop song that doesn't sound all that different in German.
Finding an excellent Oktoberfest beer — Urban Chestnut's Oachkatzlschwoaf (O-Katz), Bob's 47 from Boulevard, Sierra Nevada's collaboration with Milternberger, or Ayinger Fest-Märzen for starters — is easy in our parts. And Urban Chestnut throws an excellent Oktoberfest party (every Oktoberfest should include the Bolzen Beer Band). But there's just something about here German-speakers try to sing "West Virginia, mountain momma" in unison.