We all know that the best beers in the world cost less than the best wines. However you can buy a quality wine for less than a quality beer.
Why?
I didn't really get an answer following a presentation by Dogfish Head founder Sam Calagione and wine maven Marnie Old at the Great American Beer Festival, but maybe you can connect the dots.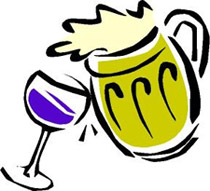 In all fairness that wasn't what they were there for during a presentation for GABF attendees on Thursday and the press on Friday. Calagione and Old certainly make a meal entertaining — combining humor, he vs. she, and beer vs. wine — and I'm sure their upcoming book, He Said Beer, She Said Wine, will be a delight.
When they were done I put this question to Old: Why can I buy a bottle of Charles Shaw wine (also known at Two Buck Chuck) at Trader Joe's for $2.99 and a six-pack of Mission Street Pale Ale costs $5.99?
(I had hoped to have the speakers taste the two blind — maybe straight from brown paper bags — and comment, but this wasn't the time or place.)
Old would argue about the quality of Two Buck Chuck, but the 2004 Chardonnay won double gold in the California State Fair. Firestone Walker crafts Mission Street. It is the "base" beer for the award-winning Firestone Pale Ale, the difference being that it doesn't contain a portion (the Firestone Pale Ale has about 3%) of beer that ferments in wood barrels.
"Quantity and quality don't go together," Old said, making it clear what she thinks of Two Buck Chuck, which one wine writer at the press luncheon referred to as "a box wine in a 750ml bottle."
Old is not anti-beer. She talked openly about wine's image ("snobbishness") problem. "It's obvious to me wine and beer are more alike than they are different," she said, contrasting them as fermented beverages to distilled spirits. Saturday the Brewers Association gave her one of its Beer Journalism awards for "Beer Takes the High Road" published in Sante magazine.
But my question seemed to leave her a little defensive, perhaps because she clearly does not want Two Buck Chuck carrying the banner for "fine wine."
She repeated a point she made during her talk that the quality of less expensive wine has been improving for 50 years, and the quality of beer (less expensive than most wines to begin with) has been improving for more than 30. A way to compare the two is to consider the cost of a single serving.
In a restaurant that is as simple as looking at the menu. At home figure that a bottle of wine yields six servings and a 12-ounce bottle of beer one. This doesn't suit higher-alcohol, labor-intensive beers, but works just fine for our Trader Joe's comparison.
Thus a serving of Two Chuck Buck Chardonnay costs 50 cents and one of Mission Street Pale Ale costs $1.
This would suggest that it is more expensive to reach some minimum standard of excellence in beer than it is wine.
And before you start blasting with both barrels I recognize all the "ifs" here. Does Two Buck Chuck really qualify as quality? How can Mission Street Pale Ale be on (or beyond) the verge of world class and also some sort of "new minimum?"
This is not intended to pit beer versus wine. To have winemakers argue that they can offer more of a "deal" or beermakers that drinking beer isn't always choosing the "cheap" product.
I'm just noting that at Trader Joe's a wine that's always a deal and wins awards is $2.99, and a beer that's always a deal and wins awards if $5.99.
An observation.