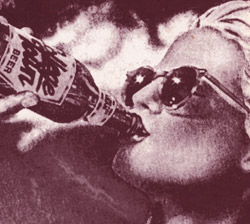 I'm all for perspective, although I expect it to go out the window this weekend in Denver.
The Simpsons and Norm Peterson? How much more pop culture can the Great American Beer Festival handle? To keep us on an even keel All About Beer magazine had historian Maureen Ogle pen a piece titled "What Revolution?" for its 30th anniversary issue, "Beer: 30."
Early on she writes:
"Here's where I'm supposed to wax rhapsodic about the craft beer revolutionaries who taught Americans to drink real beer, and who changed the brewing industry forever.
"I'll pass. I'm a historian, and it's my job to take the Long View of the Big Picture. And from my vantage point, what was fringe in 1979 is fringe in 2009, and the 'revolution' was not."
Certainly not as she, and many other people, would define it. Perspective indeed, although I'm sure if she were going to be in Denver we could line up plenty of people to debate that thought. I'd like to take the other side on two different statements.
Second, she writes, "Morever, entrepreneurs are ambitious. They will always strive for more. And so small brewers expand their brewhouses in order to satisfy their ambitions and to ensure the financial future of the children and grandchildren who are born in between mashing and lagering."
What's changed since 1979 is that a person who wants to run a small brewing business, and keep it small, can. Yep, it's that simple.
Now onto the first. "For every five beer geeks who applaud the arrival of say, Groovy California Brewing Co.'s 'local' beer on the east coast, at least one will criticize Groovy's ambitions and find something else to drink. Something more pure, more real, more local. Something less, well, 'successful.'"
How about choosing local because tastes better? Again it can be that simple.
Just wanted to be on the record with those two thoughts. Of course I'm the guy who when AABM asked for predictions for the next 30 years (those appear at the back of the magazine) responded with more of a wish than a prediction:
"We will continue to most enjoy beers made by breweries where, if the guy in charge really needed to put on his boots, walk into the brewhouse and make a batch of beer, he could."