Researchers are reporting (I like the National Geographic version) that chocolate was discovered by accident by Central American Indians who were making beer.
"In the course of beer brewing, you discover that if you ferment the seeds of the plant you get this chocolate taste," said John Henderson, an anthropologist at Cornell University. "It may be that the roots of the modern chocolate industry can be traced back to this primitive fermented drink."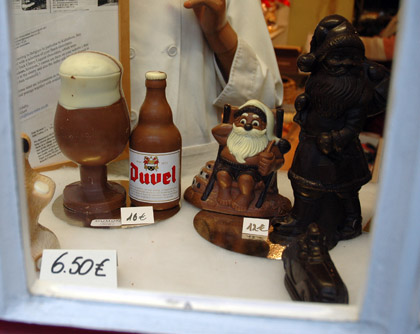 In a new study scientists chemically analyzed the Honduran pottery fragments.
"It was beer with a high kick," said study author Rosemary Joyce, an anthropologist at University of California, Berkeley. "But it would not have tasted anything like the chocolate we have today."
The Geographic suggests this could inspire new chocolate dishes.
(It) could "fuel creativity and spark the imagination of chocolatiers and chefs," Alice Medrich, author of Bittersweet: Recipes and Tales from a Life in Chocolate, said by email.

"As a result, we get new ideas about using chocolate in savory as well as sweet dishes and about pairing the flavors of chocolate with other flavors, too," Medrich said.
Meanwhile, I'm thinking that if you performed an MRI on the brain of Sam Calagione of Dogfish Head Brewery — the master at turning what scientists discover in ancient pots into beers we could never imagine — you'd see the wheels spinning at record speed.
Of course this only confirms a beer and chocolate connection that's hardly a secret. Lucy Saunders devotes a chapter to "Chocolate: Another Fermented Favorite" in the recently released The Best of American Beer & Food: Pairing & Cooking with Craft Beer
.
The photo above is from a chocolate shop in Brugges, where they shape really good chocolate into all manner of things, including a Duvel bottle and glass.
Further Reading:
– Pete Slosberg talks about shifting from the beer business to the chocolate business.
– A "chocolate companion" from Stephen Beaumont.
– Saunders offers recipes at her beercook.com site.