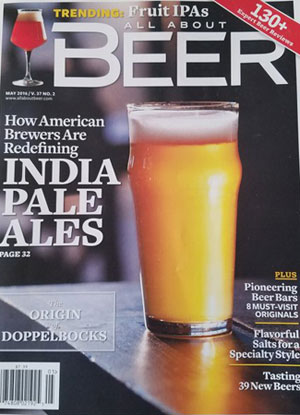 I should probably wait to comment on Jeff Alworth's story until our postwoman delivers the latest All About Beer magazine (John Holl tweeted this photo of the cover yesterday), but he hinted at the contents when he posted "How American IPAs Evolved" at Beervana.
At the heart of his blog post you have this: "There has been a shift from very bitter IPAs to IPAs marked by flavor and aroma, but it has happened around the country as brewers each made natural discoveries on their own."
You'll notice the cover also says "Trending: Fruit IPAs."
More data points:
– New Belgium Botanical Imperial IPA.
Straight from the press release (or you can watch the video): "Using the fresh aroma of the spring landscape as inspiration, New Belgium Brewing's Botanical Imperial IPA uses a blast of essential oils from backyard botanicals. basil, sage and juniper help create the freshest IPA around, with Bravo, Cascade, Sterling, and Willamette hop varieties delivering a potent hop punch."
"The essential oils intensify the citrusy, herbal and spicy hop flavors," noted Ross Koenigs, New Belgium pilot brewer. "The idea for a botanical IPA came from our love of both IPAs and gin. So back in 2014, we had our hop chemist run a bunch of gin botanicals alongside different hop varieties and then we started beta testing how those different herbs and spices played with the hops. The result offers notes of citrus, pine, wood, cedar, mint, and a little spice."
– Hops Oils & Aroma: Uncharted Waters.
It seems a little weird linking to a story I wrote for Craft Beer & Brewing, but it saves me pounding out 1,200 words again to explain some of the science behind what New Belgium is up to.
If you take a look at a few varieties (I suggest HBC 291, a hop that really needs a name) you'll see that YCH HOPS has increased the amount of information itprovides about at least some varieties. It now provides data on linalool and geraniol. This is fun. For instance, notice that New Belgium is using Bravo, a variety with above average oil content and thus more geraniol than the average bear. It's a hop that brewers can use to create an interesting blend — rather than wasting their time moaning, "Wah wah wah, I can't get Citra." Just remember, as the story points out, there's a lot hop scientists are still figuring out.
Late hopping preserves these oils — about 50% of essentials oil evaporate during just 10 minutes of boiling. Although, as Alworth points out, brewers don't necessarily need to boil hops as long as previously thought to extract bitterness (technically, they aren't really extracting bitterness, they are orchestrating a conversion) too often they are creating beers that I find not bitter enough. Part of the reason is those big, juicy, tropical aromas and flavors create an impression of sweetness.
I'm no more interested in fruit bombs than I am bitter bombs.
So I was delightfully surprised last Friday when we dropped by the Virginia Beer Company in Williamsburg after the first session of Ales Through the Ages. I think their grand opening is this Saturday, but they've been throwing open their doors for a series of soft openinngs.
Brewer Jonathan Newman's beers are ready. I didn't love every one of them. For me, Nelson Sauvin hops and saison yeast may never work together (I am probably in the minority). But the rye saison with Amarillo hops was sublime. Every one of the beers, even the one with Nelson Sauvin, was balanced and nuanced. And, for those of you keeping score at home, even though they are unfiltered every one of them poured bright.
But my favorite moment was after I'd tasted the IPA, Newman asked me if I thought it is bitter enough. It has all the flavor and aroma you expect in a 2016 IPA, but, yes, it is bitter enough.