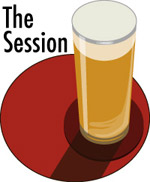 Rick Lyke has the recap on the 7th round of The Session.
He begins by reminding us it was dedicated to "Michael Jackson, who passed away in London on Aug. 30th. Michael was an inspiration to drinks journalists and helped remind the world of the significant part that beer plays in our daily lives, culture and history. Michael became known as The Beer Hunter, after the name of his television series. With this in mind, I think The Beer Hunter would have been proud of the animal beers bagged by the blogging community on Friday."
The most popular animal in a name and/or on the label was a dog (11), and all told we ended up with 42 critters.