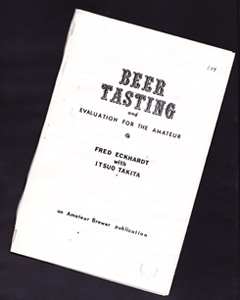 In 1977, the same year Michael Jackson wrote The World Guide to Beer, Fred Eckhardt and Itsuo Takita published a somewhat smaller tome.
Beer Tasting and Evaluation for the Amateur wrapped everything up in a modest 16 pages. As you can see, it was printed at a local copy shop. In the preface they wrote their goal was to "get the ball rolling." The bulk — if such a word is appropriate in something this size — focused on flavor, evaluating that flavor and providing a score (based on a 20-point scale, somewhat different than the one that appeared in Eckhardt's Essentials of Beer Style in 1989) for each beer.
Quite honestly, I had forgotten I had this. It toppled off the shelf when I reached for Essentials to see how many styles Eckhardt had cataloged in 1989 (38, in fact).
Because the pamphlet also included a list of "bottled beers types and categories" that some might call beer styles, and because styles are certainly the topic of the week, with hopes I'm not violating the copyright . . .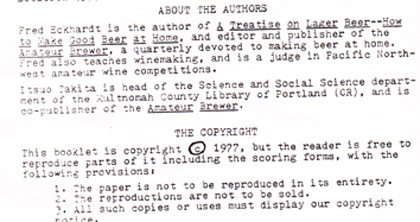 I. PALE OR LIGHT COLORED BEERS
A. Low Alcohol Beers.
B. US-type Pale Beer.
C. Malt Liquors.
D. European Continental type lagers.
E. English type ales.
F. European top fermented beers, except class R.
G. Amateur pale malt extract beers.
H. Amateur pale beers, 50% or more grain malts.
II. BROWN OR DARK BEERS
I. U.S. type dark beer.
J. Continental European type dark beers.
K. Strong Ale – celebration ales or beers (over 6% alcohol by weight).
L. Brown Beer.
M. Porter.
N. Stout.
O. Amateur dark malt extract beers.
P. Amateur dark beers, 50% or more grain malts.
III. OTHER BEERS.
J. Still malt beverages.
R. Lactic Acid Beers.
S. Miscellaneous hopped beers.
T. Original rice beers.
U. Other beers not included in the above.
The list totaled three classes, 21 types (4 of them amateur) and 85 categories (examples to follow).
The number of categories in a type varied, as did the detail about each. English type ales (E.) was pretty typical.
E. English type ales. English hop bouquet (Bullion, Fuggle, Golding). Color light straw to dark amber. Pale ale isn't.
1. English best bitter. Intense, impressive or pronounced ale character, 4.6% /w; 4.8-7.2% /v alcohol. Bass Pale Ale. Whitbread Pale Ale.
2. English Mild Ale. Pronounced, noticeable or mild "ale" character. 3-4% /w; 3.6-4.8% /v alcohol. Rainier Ale.
3. U.S. stock ale. Intense, impressive or pronounced hop and "ale" character, alcohol over 5% /w; 6% /v. Rainier Ale.
4. U.S. mild ale, pronounced, noticeable or mild hop and ale character, 3-4% /w; 3.6-4.8% /v. Color straw to amber. Ballantines Ale.
The authors write, "There are undoubtedly errors in placement of description. We would appreciate correction, and additions." But it was an interesting first version, saying much about the state of beer in the United States at the time (600 brands available, including 110 imports).