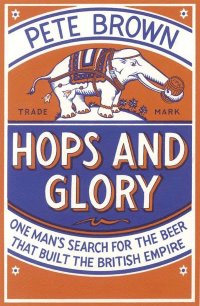 On July 9 Luke Nicholas put two casks of Armageddon IPA on a New Zealand ferry, sending them on a journey that would last six weeks, 126 trips back and forth across the Cook Strait.
Colin Mallon, manager of Wellington specialist beer bar The Malthouse, and Nicholas, owner and brewer of Epic Beer, hit upon the idea during a trip to England. They named the casks Melissa and Pete, for beer writers Melissa Cole and Pete Brown, the latter author of Hops and Glory: One Man's Search for the Beer That Built the British Empire.
"The idea is to see what effect changes in temperature and constant movement have on beer stored in wood," Nicholas said. "Most pundits believe India Pale Ales benefited from the conditioning they received during their sea voyages."
When they tapped the casks a couple of weeks ago they found the beer quite tasty, but then you go to that much trouble you're likely to be predisposed to feel that way.
Likewise, when 410 pages into an epic journey Brown finally tastes the IPA he's given up a good chunk of his life to haul from England to India would you expect anything other than love? It might have made a better story had he spit out the beer in disgust. That would have been a hoot, wouldn't it? However, even though he attempted to "create a buffer of skepticism" he found perfection.
It pours a rich, deep copper colour, slightly hazy from the sheer weight of the hops. The nose was an absolute delight: and initial sharp citrus tang, followed by a deep tropical salad of mangos and papaya. And when I tasted it, my tongue exploded with rich, ripe fruit, seasoned with a hint of pepper. That bitter, hoppy spike had receded, the malt reasserting itself now against the hop attack. As well as the rich summer fruit, there was a delicate tracery of caramel, not thick and obvious, but more the golden, gloopy kind you get in Cadbury's Caramel bars, light and not too cloying. The elements of the beer ran into each other, harmonizing. The finish was smooth and dry, clean and tingling. And by God it was damned drinkable for its hefty 7 per cent alcohol.
He also writes, "In the global family of IPAs, it combined the weighty hop character of the American beers I loved with the balance of the more restrained English brews, the best of both worlds."
You'd expect no less enthusiasm from an author who proved in both A Man Walks into a Pub and Three Sheets to the Wind an unrelenting appreciation for what he refers to as the "best long drink in the world." In Hops and Glory we get considerably more, some of which we might not have bargained for.
Well into his journey Brown steps aboard the tall ship Europa, one of several water vehicles central to the story:
A tanned blonde woman in her mid-twenties, Scandinavian looking, pretty yet overwhelmingly practical, direct from central casting for an advertisement for healthy living on the ocean waves, appeared and said, "Hi, I'm Val."

"Pete."

"Ah, you're English Pete, yes?"

"Yes!"

This was great. Already I had a pirate name. English Pete — it suited me.

This was it. The full impact of what I was doing finally hit home. I was an adventurer, an explorer, embarking on something few wordinary people would every dare. Wasn't I?

"'You'll be sharing your cabin with a couple of men in their late fifties."

OK, maybe not as adventurous as I thought.
But it is an adventure. One that starts with what turned out to be a crazy idea: ". . . something that would make people stop and ask, are you sure? Something that might even make them worry for my safety." In fact I remember when the first stories appeared, announcing that Brown would haul a cask of traditional IPA from Burton-on-Trent to India. Didn't sound all that tough. Put some beer on a boat, actually a few boats in succession, sail to India. Get off. Tap. Enjoy.
That would be a magazine article rather than this book of considerable heft. Like in any good travel yarn, Brown uses his geographical journey to frame a story in which he and the rest of us move from illusion to understanding. Unlike in many the author — beer is not the central character in this book; Pete Brown is — also takes a long, honest at himself. He invites us to do the same, to perhaps consider similar questions about ourselves. How sane is he? Are we? How competent?
To the credit of his wit, and perhaps beer, what could have turned dark doesn't.
Curiously, this book has not yet been printed for sale in the U.S. market, although it is available in Canada (where they spell flavor with a "u"). Curiously because of (some) Americans love affair with hops. It really should be sold in the U.S. Certainly it has a BBC feel to it — a well done travelogue with social history and liberal remorse — but Brown writes in a language the American beer drinker can understand and in a way hip readers of AFAR would likewise appreciate.
He's not the first to get the IPA story right (Martyn Cornell did that quite nicely), but since history gets mangled in different ways on the two sides of the Atlantic there's work to be done. He'll also admits this is not the compleat history of IPA, because modern history took a turn since Bert Grant reintroduced India Pale Ale to the American market in 1983.
Writing a bit for Grant's biography, Michael Jackson recalled the first time he tasted Grant's IPA: "I was just stunned by the bitterness of it. I just loved the bitterness of it. I thought, 'christ, he's really going to do this. Bert really expects people to buy this?'
"It was like hearing Charlie Parker for the first time, and wondering, 'Are people really going to buy these records?' I have sampled Grant's IPA many time since, and always found it very hoppy. But nothing could match the shock of that first encounter."
American IPAs since evolved, heading in a variety of directions so let's not start a debate about style definitions, keeping bitterness as a hallmark but with many putting equal premium on hop flavor. They are not beers designed to be put on a boat for months. Whether somebody else thinks they could do with mellowing brewers want them served fresh.
"This idea of keeping the hoppy beers fresh is what will keep us from ever growing too large," said Russian River Brewing co-founder Vinnie Cilurzo, who is credited with brewing the first commercial Double (or Imperial) IPA ever. He said that he and his wife and partner, Natalie, take freshness of Pliny the Elder and Blind Pig IPA personally. "In Northern California, we have 100 percent coverage regarding these beers being kept cold (in store coolers). Now we are working to get at least 90 percent of the accounts outside of Northern California to keep them cold. Our next step will be to survey every market and note on our list of accounts on our web site who keeps our beer cold and who does not."
There's still more to explore about IPA, but you get a sense reading the book and his blog that Brown will not be the one making the trip or performing various experiments.
Too bad, because it's hard to imagine anybody else writing about it in as engaging a manner.