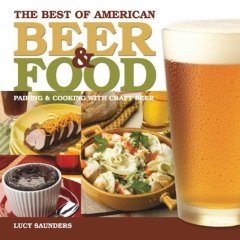 Once a good ol' beer person, always a good ol' beer person.
Lucy Saunders can't help herself. She's a beer person, and that shows up on every page of The Best of American Beer & Food: Pairing & Cooking with Craft Beer
.
(Disclaimer: Lucy has been a friend of my wife and I for 15 years, and we both had a small hand in this book. Now I'll go back to calling her Saunders.)
This is the book you'd expect from someone whose preparation included working as a line cook in top flight restaurants where beer is treated with respect, but also the book you'd expect from somebody who has gone to brewing school. A beer person. Somebody who can talk to us about the pleasures of food and drink without being fussy.
She isn't pedantic when she writes about finding the right beer for a particular dish, nor when it comes to executing a recipe. She's friendly, as you'd expect of a beer person.
So what's in the book?
– Primers for enjoying the decadent side of beer, with separate chapters on beer and cheese, then beer and chocolate.
– An affirmation of what's going on across the country, with interviews from every region.
– Recipes, of course, six or seven dozen of them, many made with beer and all intended to be enjoyed with beer.
– Food porn. Full-page, color pictures worth at least a thousand words apiece.
Who should own the book?
– It helps if you can cook — some of the recipes are challenging.
– Anybody looking for pleasures to enjoy with friends. Be ready to be inspired to prepare multi-course meals served with a wide range of beers.
– Anybody looking for simple pleasures. You can pick a single dish, a simple one, and stick to one beer.
– Food lovers who are ready to be surprised. I fully expect cooking types to find a recipe that looks too good to pass on, discover it is prepared or served with a beer style new to them . . . and have a new favorite beer.
No, this isn't totally groundbreaking. Brewers Publications, the publishing arm of the Brewers Association and producer of this book, also put out Candy Schermerhorn's Great American Beer Cookbook in 1993. There have been several outstanding books since (and soon I'll get to reviewing Great Food Great Beer, also brand new) and you may want to buy one or more of them as well.
What I appreciate about The Best of American Beer & Food is the combination of how and what. Saunders' approach elevates beer, in no small part because dishes that take a little more effort to prepare might just deserve beer with a little more flavor.
In the foreward, Randy Mosher writes, "But all too often in the world of fine food, wine swaggers into the dining room like it owns the joint, while beer is left to skitter in the shadows from crumb to crumb."
In this book Saunders doesn't swagger, but she sure does own the joint.