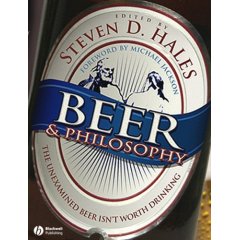 Would you trust a philosopher with your beer?
Is that in itself a philosophical question?
To tell the truth, even though I was careful to bite off portions of the book in small chunks, after reading Beer and Philosophy: The Unexamined Beer Isn't Worth Drinking
I'm not exactly sure about either. I seem to have reached philosophy overload.
Which is not to say I didn't enjoy myself throughout.
This is a great collection for a book club to tackle. Read a chapter a week and discuss at the local pub. After after finishing this book the club could move onto to the other two in this "Epicurean Trilogy," Food & Philosophy
and Wine & Philosophy
. I'd suggest discussions continue at the local pub rather than moving on to a wine bar.
And after that? Southpark & Philosophy and 24 & Philosophy should be out. Really. It seems publisher Wiley-Blackwell has quite a franchise going here.
Philosophers who have a certain affection for beer wrote most of the essays. There's also Alan McLeod from A Good Beer Blog representing the blogosphere, as well as philosophical brewers Sam Calagione and Garrett Oliver.
The topics include many — quality, pricing, authenticity, etc. — that pop up here. Also some you don't see in your basic beer blog. Such as an inspection of Immanuel Kant's transcendental idealism through beer goggles.
I particularly liked editor Steven D. Hales contribution. He uses the philosophy of John Stuart Mill to examine this question: If you had $30 to spend on beer, would you be better off spending it on a single case of Pilsner Urquell or two cases of Miller Lite? Don Russell recently covered this in nice detail. Take a look and come back. Carefully consider Hale's argument that quality is the density of pleasure. Could be a New Beer Rule.
And if you don't have a book club to share thoughts with? Jeff Alworth has suggested this book will provide blogging fodder for quite a while. I have to agree.
Perhaps that's what Michael Jackson was predicting in the foreword (a delightful surprise to find at the outset) when he wrote: "When I grow up, I want to be a philosopher."
As Hales points out in his introduction it all comes down to Plato — degrees Plato or the guy who keeps popping up in this book.