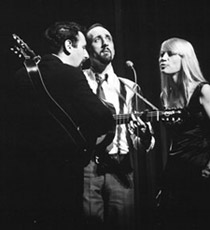 Had Coors Blue Moon White been a folk artist in the 1960s would it have been Peter, Paul & Mary?
Wait, before you flip the dial, consider these alternative questions:
– Was the group P,P&M more like Pete Seeger or Trini Lopez?
– Is Blue Moon White more like a so-called craft beer or mass market beer?
Among the teens I went to school with in the '60s the argument about just how "authentic" Peter, Paul & Mary was invoked far more passion than any one about "authentic" and "craft" beer. In one camp you had the "Dylan wrote Blowin' in the Wind and Pete Seeger wrote If I Had a Hammer and those are the guys that have the right to sing them."
In the other you had the "P,P&M sound as good as The Weavers, they are singing great songs and they are what we want to sound like around the campfire. They are miles better than Trini Lopez (who also sang If I Had a Hammer)."
History sorted this out for us. The group was at the 1963 civil rights march on Washington where Dr. Martin Luther King made his "I Have a Dream Speech" and its members spent the next 40-plus years (sometime together, sometimes on their own) on the right side of causes. In fact, they turned out to be more political than Dylan.
They wrote excellent songs of their own, but just as importantly generously helped promote many other songwriters. They sounded prettier than Dylan singing Blowin' in the Wind, but that allowed them to broadcast a political messages to far larger audiences than the Weavers every reached.
I don't mean to equate a lowly beer with the politics of the 1960s, but my friends who labeled P,P&M the equivalent of Trini Lopez were wrong. Will those who dismiss Blue Moon as a craft wannabe be just as wrong?
I'm not saying it's my first choice of beers when it comes to those inspired by Pierre Celis – or even my first choice at Coors Field, where White is still brewed to the original recipe in the SandLot Brewery. I'd rather be drinking one of the all-grain lagers there.
But if you based your investment decisions on my tastes you'd have been dirt poor long ago. Instead recognize that tons of drinkers prefer Blue Moon to just about any so-called craft beer – and would likely describe it as craft when ordering it.
Earlier today the Brewers Association announced that craft beer sales are still rockin'. But the numbers aren't as impressive as the Associated Press reported in conversation with Coors' Keith Villa, the guy who created Blue Moon White.
Blue Moon sales were up 79% in 2005 and more than 100% in 2006. A couple months ago at the National Homebrewers Conference, Villa said: "We're closing in on Sierra Nevada (meaning the Pale Ale as a single brands) and next year we should get close to Sam Adams (Boston Lager, the brand)."
The Brew Blog, meanwhile, has tossed out the possibility of a Blue Moon light beer, called Pale Moon or Pale Moon Light. This could also be the Chardonnay Blonde that won a medal last year at the Great American Beer Festival, which isn't "light" in any traditional sense.
Villa promised that beer, which includes Chardonnay grape juice on top of a wheat base and checks in at 7.1% abv, will be back at GABF this year.
I'm not looking to turn this into a conversation about if Blue Moon White is a craft, genuine or authentic. We're not settling that one. Just read the interview with Villa, or at least this much:
Q: What has allowed Molson Coors to build this craft-style brand without reinforcing the beer's connection to a large brewing company?

A: The first thing really comes back to the taste and the quality. The second thing is the credentials. I have a doctorate in brewing from Belgium. So it's not like a group of American brewers got together and did some consumer research and found the best recipe and then developed that. This is right from the ground-up.
Perhaps not Dylan, certainly not Seeger, but maybe Peter, Paul & Mary.