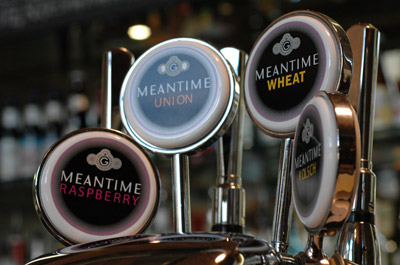 Nearly 100 news outlets have picked up the Associated Press story about the art of tap handles. That's understandable, because tap handles can be pretty cool, although you'll notice I chose to illustrate this story with the simple but elegant tap handles of Meantime Brewing in Greenwich. The photo was shot at the Brew Wharf, part of the Vinopolis complext in London.
But I'm not sure that I ever ordered a beer because it had a great handle. Handles certainly have grabbed my attention at a pub, and if I already knew something about the brewery (or even the beer) then I may have ended up drinking a beer from that tap.
Thus I wish I had written what Roger Baylor offered at the Potable Curmudgeon. Be sure to read clear to the conclusion:
You can't read a book without cracking the cover. Admire the tap handle from afar, but delve into the true significance of what it represents, and become knowledgeable.
Words to drink by.