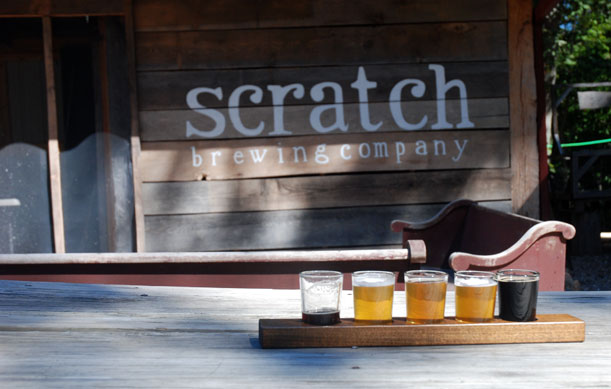 The Great American Beer Festival has an "Indigenous/Regional Beers" category.1 I should have mentioned that last week when I asked for reader help in understanding what makes a beer indigenous.
I figured that out Saturday when a) Alan McLeod added a rather long comment (long enough to turn into a post of his own), and b) we hung out at Scratch Brewing after a pleasant bit of bike riding in the not-too-hilly roads around Ava, Illinois.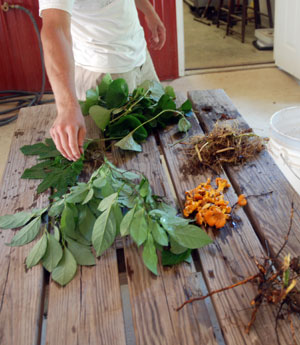 Last year at the Great American Beer Festival founder/brewers Marika Josephson, Aaron Kleidon and Ryan Tockstein decided if they were going to return this year they would do it the "Scratch way." They are and they are. Scratch will be pouring five beers made with foraged ingredients and without hops. They call these gruits, which could lead to a whole other discussion that is best considered another time. The point, related to last week's question, is that they are using indigenous ingredients.
One of the beers, called 105 is made with 105 (of course) plants and funghi from the surrounding area. To brew the beer they split the ingredients into three piles, one for bittering, one for flavoring and one for aroma, mostly flowers and leaves. (Hickory leaves add bitterness and tannins. "I had to cut down a hickoy tree that day," Kleidon said.) The beer was fermented with Perennial Ales house yeast (technically one of their house strains, I guess), itself sourced from a Belgian saison brewery. I'll keep the tasting note short: nicely balanced, well integrated, good. And spicy.
They'll also be serving it at the Beer Made By Walking Festival on Oct. 3 at Wynkoop Brewing (so Friday afternoon, before the GABF evening session). It appears that tickets are still avaiable. Eric Steen, who teaches art at Portland State University and the University of Colorado at Colorado Springs, started BMBW in Colorado Springs in 2011 (just as we were moving from New Mexico and before I could head north on I-25 to get a closer look). It's an intriguing concept. Invites brewers to go on nature hikes and make new beers that are inspired by plants from the trail.
More than 20 of the beers at the festival were made specifically for this event from Colorado breweries that have collaborated with BMBW. They've also added a "foraged and indigenous" component to our festival this year. These are beers from brewers not part of the original Beers Made By Walking program that use foraged, wild, and indigenous ingredients to create "place-based beers." The five breweries participating are Scratch, Fullsteam, Fonta Flora, Ladyface, and Wicked Weed.
The afternoon should provide a good opportunity to consider what constitutes an indigenous beer.
*****
1 Here are the GABF guidelines: Indigenous/Regional Beers are any range of color. Clear, hazy or cloudy appearance is acceptable depending on style. Malt sweetness will vary dramatically depending on overall balance desired. Hop bitterness is very low to very high, and may be used for highlighting desired characters. This beer style commemorates combinations of ingredients and techniques adopted by or unique to a brewery's particular region and differentiated from ingredients and techniques commonly used by brewers throughout the world. For the purpose of defining this style, uniqueness of ingredients, regional heritage, technical brewing skill, balance of character, background story defines the intent of this category. The use of hops, yeast, water, malt, or any raw grain regardless of origin does not by itself qualify beers as an Indigenous/Regional Beer. Body is variable with style. "Indigenous/Regional Beers" that are not represented elsewhere in these guidelines by a defined style could possibly be entered in such categories as Experimental, Herb & Spice, Field Beer, etc. but by choice a brewer may categorize (and enter) their beer as Indigenous/Regional Beer. Beers that represent established historical traditions should be entered in "Historical Beers" or other categories and should not be entered in Indigenous/Regional Beer category.
To allow for accurate judging the brewer must provide additional information about the entry including primarily the unique ingredients used and/
or processing which contribute to the unique qualities of the style, and information describing the beer style being emulated. This information will
help provide a basis for comparison between highly diverse entries. The information must not reveal the identity of the entering brewery. Entries not
accompanied by this information will be at a disadvantage during judging.