Beers from Alaskan Brewing taste like this: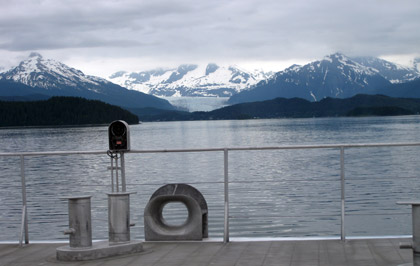 And like this:
They taste like they are from Alaska, and once you've traveled the Alaskan Marine Highway from one port to another you'll realize that more specifically Alaskan Brewing beers taste of Southeast Alaska.
Quite honestly I paused for a moment last week when Alaskan co-founder Geoff Larson said that the brewery sells more than 70 percent of its beers beyond Alaska's borders. After all, we're at the beginning of our Year of Drinking Local, and know full well that many beers suffer the farther they travel from home.
In the next few hours I realized how well timed this stop in our family adventure — generally not a beer trip but a trip in which we are drinking beer — turned out to be. It put the importance of local and place back in perspective. A local beer that doesn't reflect where it's brewed doesn't interest me nearly as much as a beer that comes from a place, even when we may be far from that place.
Of course you understand that much more easily if you've been there.
This particular day in Juneau was a working day. I started collecting Geoff and Marcy Larson's oral history as well as gathering information for two stories. But the days before and after were at least as important in getting to better know beers I've been drinking for 15 years. The there in the beers is on a trail overlooking Mendenhall Glacier, on a ferry traveling through the Wrangell Narrows, chilled to the bone hiking in a "temperate" rain forest, or watching a server set down a plate of massive crab legs in a restaurant.
Alaskan beer is everywhere, clearly a source of state pride. Neon signs brighten most bar windows. Souvenir shops that cater to cruise ships prominently display Alaskan T-shirts (a local grocery sells an Alaskan T and hat package), and we saw how many locals wearing Alaskan sweatshirts?
What percentage of drinkers in Seattle or Phoenix (both good markets for Alaskan beers) have shared these experiences? Probably not a huge number. What percentage care that Alaskan Amber is based on a recipe used to brew a regional beer in the early 1900s? Care that Alaskan Winter Ale features spruce tips from local trees (and a tradition that goes back to when Captain Cook traveled the Inside Passage)? Care that that Native Americans determined hundreds of years ago that alder (the only truly hardwood available in Alaska) was best for smoking fish, and now Alaskan smokes malt for its famous Smoked Porter over adler. Again, not as many as I would like.
They mostly care if the beer is good, rather than thinking of the measures Alaskan's brewers take to assure that beer sold "down South" (as Alaskans refer to the Lower 48) still tastes of Alaska.
One quick report from their quality control lab: Each batch of beer is plated (scrutinized under a microscope) ten times before it goes into a bottle. Each day a tasting panel (all employees participate on a rotating basis) convenes in the QC lab. They taste finished beers, beers in progress, small batches sold only regionally, smaller batches that never leave the brewery and more.
I'm pretty sure they know just what a beer from Alaska should taste like.