Continuing last week's discourse about barrel-aged beers the thought occurred to me I hadn't bothered to mention why we even care. It's not the the story behind any of these beers that matters first, but what's in the glass. Some you would call spectacular, but there's good reason to appreciate beers that gain extra complexity, nuance, structure, texture, etc. from wood without romping directly to spectacular.
You can't polish a turd
If you're not familiar with this term from my Midwestern youth you can probably figure out the meaning. Barrel-aging does not make a bad beer good. It does not necessarily make a good beer better, and may even make it worse.
Case in point: A few months after Goose Island introduced Bourbon County Stout in 1995 we were at Abita's brewpub in Abita Springs, La., and they had Dickel Dog on tap (a draft-only experiment). It was something akin to a regular-strength brown ale aged in George Dickel bourbon barrels. Bourbon flavors totally overwhelmed the base beer. A beer that was likely perfectly good going into the barrel was, to my taste, no longer enjoyable.
And then there are the beers that were not particularly good going into wood . . .
So start with good beer
Think it's chance that the two versions of Lost Abbey Angel's Share (one from bourbon barrels, the other from brandy barrels) are the top two rated barley wines at Rate Beer? Or perhaps that the beers that went into the barrels were pretty exceptional.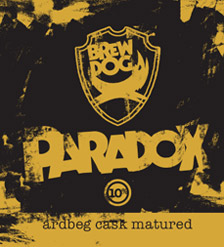 Another example would be Paradox from Scottish micro BrewDog. First shipments of BrewDog beers are due in the U.S. at the end of the month.
In less than a year BrewDog has grabbed attention for beers across the spectrum — both malt- and hop-centric &#151 and a certain attitude. "They'd be comfortable in San Diego," one British judge at the Great American Beer Festival said.
For instance, the label for Punk IPA reads, "It is quite doubtful that you have the taste or sophistication to appreciate the depth, character and quality of this premium craft brewed beer." And, "Just back back to drinking your mass marketed, bland, cheaply made watered down lager, and close the door behind you."
To create Paradox, founders James Watt and Martin Dickie age a strong stout (Rip Tide, not quite a strong at 8% abv, won "Best Imperial Stout" in the Beers of the World competition) in whisky casks from Duncan Taylor.
The beers spend four to six months in wood. "Some types of casks instill the flavors quicker than others, we constantly monitor them and decide when they are ready," Watt explained via e-mail. The version I had was aged in Islay casks, and some drinkers may find the intense blast of smoke, peat and even a bit of iodine startling when compared to beer from bourbon barrels.
But if you like distinctive Scotch whisky such as Laphroaig or Ardbeg then you'll find that the stout rounds the whisky flavors left in the barrels and vice versa, creating something altogether new.
Finding balance (with wood)
So you see it can take a beer of some heft to stand up to the intensity of barrels that once held spirits. That's not the direction every brewer chooses to go. For instance, Will Meyers of Cambridge Brewing near Boston lets barrels that once held bourbon dry out, then dehydrates them to avoid an impression of "heat" that can come with spirits.
Anyway, the DRAFT and Imbibe stories were about how brewers are finding flavors never previously associated with beer and there's no need to repeat all of that here.
Instead a little more from Matt Trevisan, the winemaker at Linne Calodo Winery who helped set the blends for Firestone 10 and Firestone 11, because it's a chance to look down another road available to brewers.
Trevisan was discussing how tannins from wood add to mouthfeel and the decisions that go into choosing a level of toast (that's barrel talk) when he explained the idea of "dressing up the wine."
Three months in wood will do that. "It jumps out of the mouth, the aromatics at the start and the impression at the finish," he said. "It's shorter in structure, but it jumps."
That changes after six months in a barrel. "You'll think that you've over-oaked it," he said. "Then by 12 to 15 months it will integrate and soften. The impression of wood won't be as strong."
A lot to learn.