You can read it right here, explanation marks and all: "Engineers have developed a 'barista-type experience' for beer drinkers where a barman can adjust a gadget fitted to a beer tap to adjust the 'hoppiness' level on demand."
"Hoppier" works much like Randall the Enamel Animal, which Sam Calagione of Dogfish Head Craft Brewery invented more than 10 years ago. Engineers at Cambridge Consultants might be putting a little more emphasis on pressure ("We knew, for example, that pressure is fundamental to extracting flavour in espresso machines – so part of our investigation was to see whether it does anything for beer."), as the video illustrates.
Randall and a variety of devices other brewers built since (I've had Budweiser though a Randall-like filter, on more than one occasion in fact) prove that filtering beer through hop cones will create different aromas and flavors than are in the beer alone. Extracting essential oils may make the beer taste more "hop-like" and fresher or grassier. But it is a might bold to suggest the engineers "have 'transformed' the brewing and dry-hopping process, which usually tales two weeks, to enable consumers to change the flavour of beer in seconds."
There's more going on in the torpedoes used to make Sierra Nevada Torpedo Extra IPA, because dry hopping involves more than just extracting flavor from hops. They how, what and why are not perfectly understood. For instance, researchers in Germany just determined that the transfer rate of various compounds varies, which is not exactly a surprise. But it appears that this rate may also vary based on the variety of hop involved. Makes writing formulas difficult. Hop scientists often talk about the importance of synergy — put two compounds or more (hops contain more than 400) and they may create other compounds or the way each is perceived may be changed by the presence of others.
In addition, yeast becomes a key player in dry hopping, because of the biotransformations that occur when yeast and hop hang out together — another area where much more research is needed. Those aren't going to occur in the seconds it takes beer to pass through the "Hoppier." Sierra Nevada has studied this is much as any brewery on earth. The brewery uses two different methods to dry hop. One is to attach eight-pound bags of hops, which will be more than four times heavier after absorbing beer, to rings that have been welded to the sides of tanks. Beers will then soak for up to two weeks.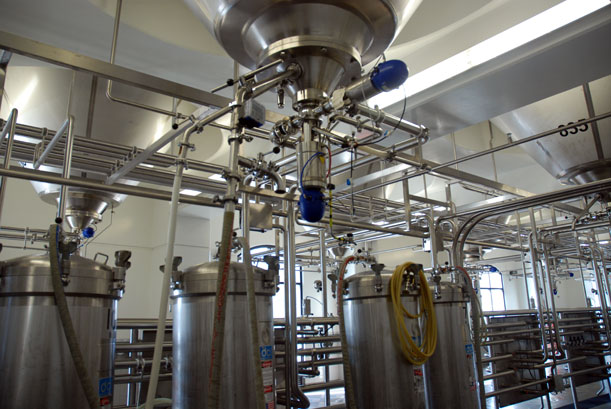 The other process uses the torpedoes (thus named because the tanks look like torpedoes turned on their sides), invented because Sierra Nevada was running out of real estate at its original brewery in Chico, Calif. Each one can hold up to 80 pounds of hops. It is purged with CO2, then beer is circulated from the bottom of the cone to the bottom of the torpedo, up through the torpedo and back into the tank. The beer, freshly dosed with hop oils, passes through a tube within a tube (called a periscope) so that it returns higher into the tank. Otherwise, beer in the bottom of the tank may become saturated and won't retain any more hop oil.
Brewmaster Steve Dresler said results vary dramatically based upon temperature and flow rates. Torpedo Extra IPA circulates for five days, beginning at 68º F (20° C) and finishing cold, extracting all the oils Sierra Nevada wants out of the hops much more quickly than with the passive bag system. However, the parameters are the same with bags. Dry hopping begins at 68º F, and yeast will still be active.
"We don't get the same floral estery notes in some other beers if we use the torpedo process simply cold without yeast contact time," Dresler said.
Edward Brunner at Cambridge Consultants may well be right when he says, Hoppier gives brands to stand out in the marketplace and "It's a way of building on the current trend of personalisation to create new experiences and add value for the consumer."
But it's not necessarily a substitute for dry hopping.
*****
PS – Yes, the tagline "Beer brewed by engineers" should send a chill down your back.