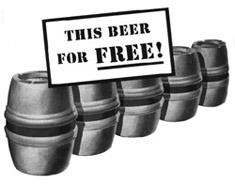 25,000 gallons of beer, 1884 beers on the festival floor, 39,000 bottles and cans to be recycled, etc. etc.
That's the Great American Beer Festival by the numbers, according to the Brewers Association, which has even more figures for you to read at the GABF site.
So how much do you think all that beer was worth? Enough that everybody who paid $45 for entrance got his or her money's worth? Lord knows that I saw plenty of people trying to make sure they did.
The following paragraphs originally contained a painful amount of arithmetic. Like number of attendees and volunteers, one-ounce servings (potentially more than 3 million; had to pass that one along), the price of tickets, street value of the beer and more.
You don't care. So I'll justify the headline, note the total value of beer dispensed likely was north of $1 million, and get to the point.
Breweries are not compensated for the beer they serve on the floor, but few were shy about serving the really good and sometimes really expensive stuff. They could have kept it at home for themselves or sold it for more than the average pint. So it seemed almost outlandish for Samuel Adams to dole out shots of its ultra-expensive Utopias. And way too generous for Flossmoor Station's brewers to part with their last keg of Killer Kowalski.
And then there was The Lost Abbey, dispensing Cuvee de Tomme ($15 for 375ml), The Angel's Share ($15 for 750ml), Veritas 002 ($20 for 750ml), Cable Car ($30 for 750ml) and 10 Commandments ($12 for 750ml). Five beers that are impossible or next-to-impossible to find, ones that would sell out at the brewery door at the brewery door were they available.
"There might be $10,000 worth of beer there," brewmaster Tomme Arthur said in passing on Friday.
He did the math Monday when he got back in the brewery, and sent the numbers along.
"Total value of beer on the floor at the GABF = $9,084.
"Winning third Brewer of the Year award = Priceless."