Item 1: A rather high percentage of the beers in Paste magazine online's "25 Best New American Beers of 2010" might be called wild, weird or extreme (sometimes all three).
Item 2: During a wide-ranging online chat with Inc. Dogfish Head Brewery founder Sam Calagione said, "The world doesn't need another world-class Kölsch or a world-class pale ale. The world needs more innovative beer."*
Nothing against the beers on the Paste list. Some good stuff there. And Calagione's advice for beer entrepreneurs should be considered in context. He had been asked for the five things most vital to starting a brewery. After talking about passion, work ethic and the importance of being a "people person" he turned to the importance of technical skills. "You can't fake it" like when he started, he said modestly. "You won't last unless you are making world-class beer out of the gate."
That's an overstatement, of course, meant to make a point. Then he said, "Make sure you recipes are unique," followed by "the world doesn't need . . . (quoted above)" and, being redundant in the manner of a good teacher, "Make sure you are differentiated in the marketplace."
A solid prescription for success, and a good way to end up on the Paste list. However I think the world still needs more very good (as mentioned here several times, world class is a moving target) beers, innovative or otherwise.
I hesitate to use the word "Kölsch" because that's a protected appellation. However, delicate pale beers are a fine example of the importance of being local and fresh. The world needs more of them. Innovation is good, even if the word has been overworked of late when discussing beer, but over the years brewers have created a rather pleasant range of styles to choose from. Not every new brewer needs to reinvent beer.
And not every one wants to. As a mentioned yesterday, La Cumbre Brewing recently opened in Albuquerque. Founder-brewer Jeff Erway expects Elevated IPA to be the flagship and so far it's easily the biggest seller. It's full of alcohol (7.5% abv) and hops (calculated at 100 IBU, though it likely wouldn't clock that in a lab), but bitter and aromatic. Outrageous a decade ago; almost mainstream today.
"I'm not one for throwing oddball ingredients in beer. I'm pretty much a traditionalist," Erway said. "I brew styles and I try to brew them the best I can. I guess it's an old route."
There are plenty of routes. Innovative beers are one result, often good. "Regular" beers are another. There can't be too many good ones.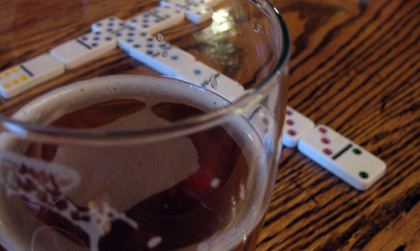 Because sometimes you just want a beer that pairs well with a game of dominoes (photo taken Saturday at La Cumbre).
*****
* Thanks to Adam for pointing to the Sam Calagione chat and culling out enough details to make me go watch the whole thing.