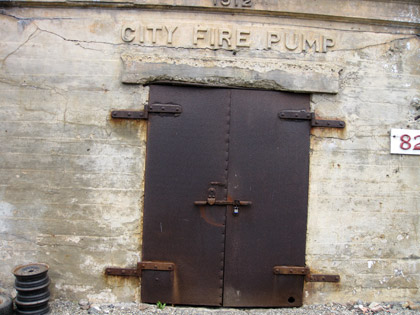 Please don't look at the photo above and think, "That jerk really is determined to stump the readers. Where's the beer connection? Heck, where's the beer?"
I picked this photo because I've been wanting to pass along a bit of beer history for a while. That might be the whole point of this non-contest contest: a chance for me to post a few photos I don't seem to have an excuse to use otherwise. And ask you where in the beer world is was taken.
Also, some advance warning. It may be a while before I can post the details. Once we reach Europe in a couple of days finding an Internet connection will seldom get any kind of priority treatment. although I hope to participate in The Session on Friday.
And if you are still with me you deserve a hint on this one. It coulda been a brewery.
The answer: This is a building in Douglas (across the Gastineau Channel from Juneau), Alaska, that Geoff and Marcy Larson looked at quite seriously when they were looking for a location for Alaskan Brewing. It can't be far from where the old Douglas City Brewing Company operated more than 100 years ago. Alaskan based the recipe for its Amber on one from Douglas.
Would this location have accommodated expansion as easily as the property the Larson eventually chose? Surely not.
It reminds me of a story I've been meaning to confirm, that Jeff Lebesch and Kim Jordan considered Crested Butte before locating New Belgium Brewing in Fort Collins. NBB surely couldn't have grown like it has were the brewery trying to ship beer out of Crested Butte — a beautiful town known for biking, skiing and its wild flowers but not at a transportation crossroads like Fort Collins.
Curious how important those first startup decisions turned out to be.