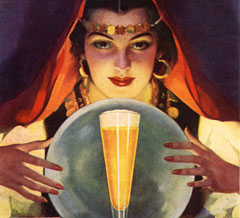 The Barth-Haas Group has released the 2013-2014 Barth Report, which provides both perspective and new data relative to the recent chatter about hop shortages (you might also read this).
However, so far we don't really know much more than in February. What's important is not if the price for some varieties, even one like Cascade, spikes in the spot market after harvest this fall. Most breweries have contracted for hops at much lower prices. What's important is what happens next. And that crystal ball thing doesn't always work.
Six years ago we were in the midst of a hop shortage, so farmers in the American Northwest strung about one-third more acres of hops (from 31,000-plus to 41,000-plus acres) than in 2007. A year later they were ripping plants out of the ground. There are about 39,000 acres — including maybe 600 in areas outside of the Northwest — but the mix is much different. In 2008, hops appreciated mostly for high level of alpha acids occupied about two thirds of acres and accounted for three quarters of overall production. Today acreage is just about evenly split and high alpha amounts to 60 percent of production.
In 2007, farmers harvested about 1,500 areas of Cascade and little more than 200 acres of Centennial. This year they've planted almost 6,700 acres of Cascade and 3,400 acres of Centennial. Simcoe production was minuscule in 2007, Citra didn't have a name and Mosaic was still in test plots (Citra was officially released in 2008 and Mosaic in 2012). Growers planted 1,840 acres of Simcoe this year, 1,720 of Citra and 670 of Mosaic.
Look at those numbers again. There are about as many acres of Citra under wire this summer as there were Cascade and Centennial just seven years ago. Good luck looking too far into the future.
So back to the Barth Report, and a few big picture observations:
– Crop year 2012 finally marked the end of the structural supply surplus of hops and alpha acid in the hop market; in other words, supply and demand are becoming increasingly evenly balanced, although demand for certain varieties may exceed supply.
– Planting of aroma/flavor varieties is on the increase worldwide, more than compensating for the clearance of bitter/high alpha varieties.
– The manner in which the hop market develops depends on developments within the brewing industry. If the trend towards more heavily hopped beers continues, this could lead to competition in the procurement market.
And some interesting points made by Stephen Barth, one of the managing partners, at a press conference in Nuremberg (although Barth Haas is an international group its home and roots are German), where the reports was released:
– Craft beer is good for beer; it is changing consumers' awareness of beer as a product category. Beer is now perceived differently, no longer only as "cold, yellow and wet." And, above all: beer is no longer defined solely in terms of price.
– More and more people now know more and more about beer. Whether they actually drink more beer is doubtful, however. The statistics on per-capita beer consumption in Germany paint a different picture.
– But when it comes to drinking craft beers, it is not the quantity that counts. I would like to repeat the words from a tasting of beer specialties that I quoted at the presentation of the last Barth Report. The beer sommelier at the tasting said: "You shouldn't drink our beers when you're thirsty. Our beers should be drunk in small quantities on special occasions."
The second Barth report came out in 1878 and the online archives go back to 1909, so pretty much endless reading for a hop geek. I could bore you for hours with tidbits from this report alone. For instance, even though two years ago in Spain we came across plenty of beers aggressively hopped with aroma varieties from the US and New Zealand the farmers there grow basically no aroma hops. About half an acre of Perle, not exactly an IPA hop, and nothing else.
One area the information could be stronger is the US. It reports the number of growers decreasing, which overlooks what is happening outside the Northwest. For the first time, the Hop Growers of America has compiled an expanded version of USDA 2014 Hop Acreage Strung for Harvest report (the 2014 numbers above come from that), which includes an estimated 880 acres for 14 additional states.
(Credit must also go to Grand Rapids homebrewer Nick Rodammer, who did a lot of the heavy lifting in contacting farmers across the country for an outstanding presentation — "Farm to Glass: Brewing with Local Ingredients" — at the 2014 National Homebrewers Conference. HGA leaned on him for much of its non-Northwest data).
Farmers in three states — Michigan, New York and Wisconsin — account for almost two thirds of acres. It will take some time to see what programs like the North Carolina Hops Project amount to. Earlier this year Jeanine Davis at North Carolina State University said perhaps 100 farmers in North Carolina are growing hops, but none of them very much. "We're going to start losing some," she said. "It's going to be a labor of love." HGA estimates they'll harvest 30 acres in 2014, and their plants don't generally come close to yielding what farmers in the Northwest get.
Here's a bit of math. Washington farmers can generally expect Centennial to yield about 1,500 pounds of hops per acre. A survey by the Brewers Association has found American craft brewers use about a pound and a half per barrel. So in this case, it would take about an acre of hops to brew 1,000 barrels. Production at Lagunitas grew 160,000 barrels in 2013 (that's before the new brewery come online in Chicago). In addition, best guess is that Lagunitas uses more than 1.5 pounds of hops per barrel. Anyway, at a minimum, Lagunitas — a fast-growing, hop-oriented brewery, but still a single brewery — used an additional 160 acres of hops in 2013.
Somebody has to grow those hops, then harvest and process them. A lot of infrastructure, a lot of investment.