Archive | May, 2012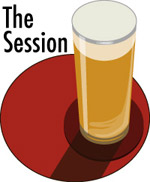 The Session #64 will be in session tomorrow (or June 1, 2012 if you aren't reading this on May 31).
Carla Companion, the Beer Babe, will host. The topic is Pale Ale. Find two of them, drink them, write about them. It's that simple.
We'll be traveling and focused on things other than beer (or at least writing about it). I almost feel I should apologize for being absent, but I look forward to reading the recap next week.
See you in Brazil, Grand Rapids, Poland
May 16-17
John Palmer, Colin Caminski, Brad Smith and I are headed to Florianópolis, Brazil, to talk about all things brewing with Brazlian homebrewers. I'll be discussing monastic brewing on Friday, hops on Saturday.
June 11-14
The list of seminars for the National Homebrewers Conference in Grand Rapids has been posted. My topic will be, "Keeping It Simple – What Monks Can Teach Us About Brewing." What, no hops? Plenty of other presentations about hops, and with luck I'll get to attend a few.
Here's the lineup
(55 talks in all).
June 20-21
Festiwal Birofilia in Zywiec, Poland. Two days of judging beer, followed by a week of sightseeing with Daria. Perhaps we will spot some beer along the way. To be followed by two weeks of fasting, because Poland seems to have that effect on my pants size.
Talking about brewing with wheat
Talking about monastery brewing and abbey beers
Subscribe / Connect
Subscribe to the RSS feed to keep track of new posts.