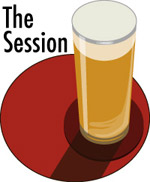 Don't forget The Session #49 on Friday, when the theme is "regular beer."
The Session is open to anybody, so if you don't have one and want to write a post I'll publish it here. If you are a blogger, email me with the URL Friday 4 or post a comment here, and by early the next week I'll write a wrap up with links to all the posts.
As the announcement should have made clear this is a pretty open-ended topic, but just to help out . . . one excerpt from Travels With Barley and one thought from a brewer.
In Travels author Ken Well wraps up a chapter recounting a night drinking with Dogfish Head Craft Brewery founder Sam Calagione.
"Late that night at the Rusty Rudder, Calagione and I sat at on open-air table with a couple of his buddies we'd bumped into, sipping Shelter Pale and just getting acquainted. And I knew Sam was a real Beer Guy, not a Beer Geek, when toward the end of evening, with our cash rapidly depleting and an ATM nowhere in sight, we decided to extend the night by one more beer. So we pooled our pitiful reserve of pocket-crumpled dollar bills and loose change and ordered — what else? — two pints of the really cheap Miller Lite on tap.
"And drank them, I must report, with great pleasure."
When I asked Port Brewing/Lost Abbey co-founder and brewing director Tomme Arthur to define regular beer he got right to the point.
"Regular beer is the stuff tickers* find boring. Enough said."
*****
* Soon, maybe even this week, I will post a mini-review of "BEERTICKERS: Beyond the ale." An even shorter version: it's worth your time and the cost of a rental.