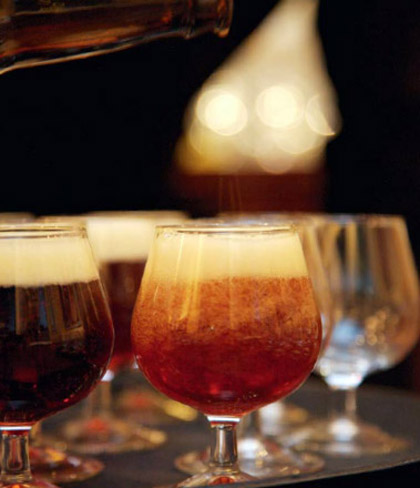 Let's start out with what's wrong with The beerbistro Cookbook
. It's too dang pretty to risk taking into the kitchen to refer to. This book is pure food and beer porn.
Before moving on to what's right about the book I must offer a longer than usual disclaimer. Co-author Stephen Beaumont is a long-time friend of our family (I even know his secret hotmail address). He links to this site and has written nice things about Brew Like a Monk. Likewise I occasionally link to his.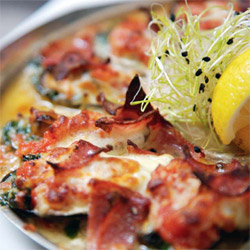 During our family's lengthy travels we happened to be in Toronto the day after Daria's birthday. She decided, with absolutely no coaching, she'd like to celebrate at beerbistro. Because our timing was terrible we had picked a time that Stephen, who helped start the restaurant as well as co-authoring the cookbook, was in New Orleans. However he did alert co-author Brian Morin, the chef and driving forcing behind the bistro, we'd be in town.
After we'd ordered our first beers (I started with the local King Pilsner, at Stephen's emailed suggestion) Brian surprised us by showing up at the table to chat. We talked about beer, about cooking with beer, about the local food markets and his shopping trip earlier in the day, and similar topics. Sierra, our daughter, was totally taken with Brian. She was doubly taken by the Cheese and Lager Fondue. She is triply taken with the cookbook. So although Stephen and I are good enough friends I'd be comfortable enough criticizing the book I know better than to cross a starry-eyed 12-year-old.
Which takes us to the first good thing about the book. These are recipes Sierra and I can make, written to include ingredients you can find. Brian is big on local and fresh but also sensible. After one more bit of food porn a few more positives:
– Your friends will enjoy the primer. You may not need to read about beer's history, beer styles, how to pour a beer or even beer at the able again. But these remain foreign concepts on much of our continent. Also be advised you don't want to glaze over what seems familiar. The beer and cheese primer toward the end is exceptional.
– Beer in the kitchen. It starts with a philosophy about all ingredients, one of which happens to be beer.
– Beer Styles à la beerbistro. Twelve basic categories "recommended as an accompaniment to the recipes or, in many cases, as a descriptor of the beer called for in the recipe." Thus the styles become quenching, sociable and soothing. Or spicy: "Well-rounded ales with a natural spiciness, either from fermentation or spice addition or both. Look for Belgian or Belgian-style strong blonde ales, such as La Find du Monde and Westmalle Trpel, and complex North American spiced ales, such as Dogfish Head Midas Touch and AleSmith Grand Cru."
– The recipes. Including more with mussels than even a Belgian could imagine.
– The recipe for Rochefort 8, chocolate, and chocolate chip ice cream. Best dessert I had in 14 months on the road. I'm not one inclined to do anything with Rochefort 8 other than put it in a glass and drink it, but there's no pain in parting with three bottles to make six cups of this ice cream.
Sierra gets the last word, and she actually has a question that amounts to a bit of criticism: Where's the fondue recipe? But she can forgive that omission. Leaving out the recipe for beerbistro's Belgian-Style Frites . . . that would be unforgivable.