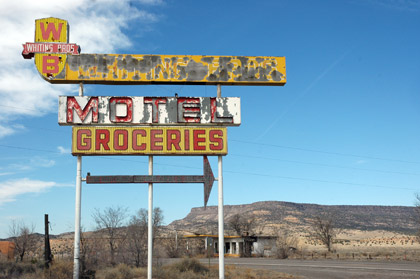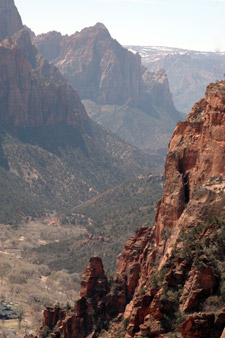 The photo on the left was taken at our destination last week — Zion National Park in Utah — and the photo at the top on the way there. Whiting Brothers businesses, motels and services stations, operated along Route 66 from 1926 into the 1990s (though their presence was severely diminished before the end).
These remains are located between San Fidel and McCartys (New Mexico), on one of the short patches of 66 you'll occasionally find paralleling Interstate 40 in Oklahoma, Texas, New Mexico and Arizona. There's no motel in sight and what's left of the gas station is in the background.
Sierra will be talking about climbing Angels Landing at Zion long after the WB sign has disappeared, but there's something to be said for being able to make the little stops as well as enjoying the destinations. They are both part of our plan for the next 15 months.
Now back to your regularly scheduled beer programming.
– Cerevisaphile? Lew Bryson asks if it is "time to stop calling each other "beer geek?" And solicits alternative terms. Alan McLeod picks up the challenge, advocating "Beer Nerd."
You'll find plenty of ideas in the comments at both blogs.
So far nobody has brought up a suggestion that beer writer Gregg Smith made years ago: "cerevisaphile." Perhaps just as well.
Lew suggests beer fan. I like that. In fact, we used the term in "Beer (Eyewitness Companions)." You can be an avid fan, a casual fan, a bandwagon fan (you are either on the wagon or off the wagon).
– The Session. Another suggestion that pops up in comments is "beer people" — a good excuse to remind everybody that's the theme for The Session #14 on Friday.
– From the business pages: MarketWatch has an update on hop shortages. Mostly dreary. And from "Brew" Blog: Land Grab and Shakeout in Craft Beer?