The things you learn reading the Wine Enthusiast Online: Sommelier Marnie Old and Dogfish Head Brewery founder Sam Calagione are writing a book called He Said Beer, She Said Wine. It's due in the spring of 2008.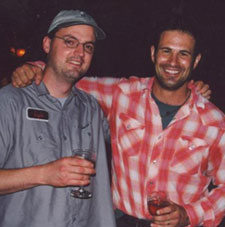 Calagione (pictured here in plaid; that's Vinnie Cilurzo of Russian River Brewing with him, not Old – and that's beer in their glasses, not wine) and Old recently have been conducting a series of dinner competitions.
They each pick a beverage to go with a series of dishes from star chefs. Diners sample both a wine and a beer with each of the dishes, make a selection as to which choice was better, and turn in a ballot voting for their preference.
The Wine Enthusiast explains:
While this was the eighth time Sam and Marnie had gotten together for their "He Said Beer, She Said Wine" Event, the outcomes have always been quite similar. "It always seems to come down to the last match," Marnie notes, "but our main goal is to get wine lovers to appreciate good beer and beer lovers to appreciate good wine." With the vast assortment of Dogfish Head brews and fine wine selections chosen by Old, that did not seem to be too difficult of a task.
Dogfish Head sales were up 37% in 2006, but Calagione is still able to churn out books almost as quickly as beer. The first – Brewing up a Business
– targeted entrepreneurs; the second – Extreme Brewing – homebrewers; and this one from the prestigious combination of Penguin and Dorling Kinderlsey may reach the widest audience yet.