It's that time of year, to recap 2006 and make predictions for 2007.
Stephen Beaumont picks his Taste of the Year; Lew Bryson has started his Best of 2006; Jay Brooks checks in with both the top stories of last year and predictions for this; Bryan and Adam at Brew Lounge discuss 2007 predictions; A Good Beer Blog invites readers to participate (and offers a fine prize); and the list goes on.
So why not? Here are nine predictions for 2007. I'm leaving the 10th open for you. Submit an entry as a comment. The best (based upon some vague guidelines) will receive a signed copy of Michael Jackson's 1977 World Guide to Beer.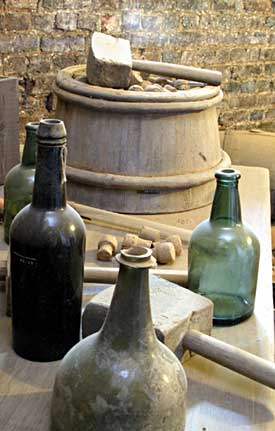 1. A bottle of beer homebrewed by Thomas Jefferson sells at auction for $56,403.
2. Modern Scientist reports that Brettanomyces, a yeast associated with "wild beers," increases the IQ of laboratory mice by between 25 and 42 percent. Sales, and prices, of Belgian and American beers brewed with the Brett skyrocket. One skeptic serves Orval to his pet mouse every day for a month and declares him no smarter (but smart enough to have suckered somebody out of an Orval a day for a month).
3. SABMiller – seeing the opportunity to cash in on the wild beer craze and growing success of pumpkin beers with a single acquisition – buys tiny Jolly Pumpkin Artisan Ales in Dexter, Mich., as well as the entire town of Dexter and one million used wine barrels for the production of "Great Pumpkin Wild Beers."
4. Dogfish Head Brewery in Delaware spends its advertising budget for the next 10 years on a Super Bowl commercial. Keeping the theme of the piece secret until the moment it is shown, founder Sam Calagione promises no Clydesdales will be injured during the course of producing the commercial.
5. Blue Moon Brewing buys Molson Coors Brewing Co.
6. Barack (is there anything he can't do?) Obama wins Homebrewer of the Year in the National Homebrew Competition and declares that if elected he will name Fred Eckhardt the nation's first Craft Beer Czar.
7. Beer blogs come of age. Gawker Media pays $875,000 for A Good Beer Blog. Little, Brown offers Beer Haiku Daily a $325,000 advance on a book deal.
8. ESPN adds an Extreme Brewing competition to the X Games. Anheuser-Busch pays $10.5 million to be the exclusive sponsor.
9. International brewing giant InBev signs a deal with Abbey Sint Sixtus of Westvleteren to brew its cult beers under a special contract and sell them around the world. InBev announces that as well as distributing Westvleteren 6, Westvleteren 8 and Westvelteren 12 it will produce a special Westy 12 Lite for the American market.
Feb. 5 – The contest is closed. The winner is Peter Hooper, who lives almost directly north of me (in Colorado). To be honest, I couldn't pick based on merit, so picked a winner at random. Thanks for participating.