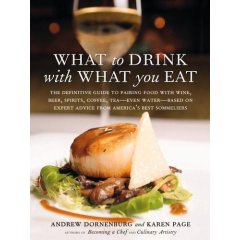 Depending on what you drink and where you eat you might have thought sommelier refers to a mythical character in a fantasy restaurant world.
But there seems to be no way these days for a small-batch beer drinker to avoid the concept, and perhaps the physical reality, of a person – whatever you call him or her – handing out expert beer advice.
Of late:
– Don Russell wrote last week that there must be a better name, beginning his Joe Sixpack column with a discussion of the "dreaded 'beer sommelier.'" Worrying about the "winofication of beer" he suggests instead using the term cellarman (or cellarwoman). "Calling the position cellarman, not beer sommelier, would maintain beer's proud tradition as a distinct and worthy alternative to wine," he wrote.
– Stephen Beaumont of World of Beer countered in a post at On the House a single expert might tend to all our drink needs: "So rather than craft a new term, let's simply reinvent the one we have and acknowledge that the sommelier should be well-versed not only in wines, but in beers, whiskies, waters and cocktails, as well." Beaumont already teaches Ontario sommelier students the basics of beer in a one-day program that is part of their wine education.
– In What to Drink with What You Eat
, James Beard Award-winning authors Andrew Dornenburg and Karen Page – both sommeliers – offer not only pairings for wine to go with food but also beer, spirits, coffee, tea and water. They clearly are not yet beer experts and a variety of spelling and categorizing errors will make a beer lover grimace and wonder just how seriously they take beer.
While the authors go into considerable detail, for instance, about wine choices with salmon, they simply write "beer, esp. Belgian ale, pale ale, or Saison, with grilled salmon."
But Dornenburg and Karen Page have Credentials (with a capital C) and their book just won a 2006 Georges Duboeuf "Wine Book of the Year" award. It is printed on heavy stock with is filled with gorgeous pictures. Quite simply, beer finds itself it good company. Most of the people who buy this book will be wine drinkers who might look at beer a little differently.
This is not the book for somebody who drinks only beer, but for those of us who appreciate both grain and grape. For strictly a beer drinker, The Brewmaster's Table by Garrett Oliver is a better choice. Or they can wait until next year when The Best of American Beer & Food by Lucy Saunders will published.
In fact, the authors leaned on Oliver for expert advise – and any wine drinker who pays attention to what he has to say about saison should become a convert – if not spelling tips. His suggestions are listed in the "Best on the Best" chapter, which features lists from stars of the culinary world and spotlights the "connect the dots" quality of the book.
This book will surely end up as gift under many wine drinkers' trees this Christmas because it provides a catalog of proven pairings – first with a chapter on what drinks to pair with various food choices, followed by one starting with drinks and then considering complementary foods. But the introduction and the final chapters offer lessons that go beyond reciting lists. These are the ones that best serve anybody – wine drinker, beer drinker . . . tea (?) drinker – who thinks about flavor, about flavors and about how they interact.
Which takes us back to the opening. Last week in the New York Times (free registration), Eric Asimov wrote that restaurants are practically begging for qualified sommeliers. He was writing about wine types. Now we're asking those folks to tack on considerable beer knowledge.
What to Drink with What You Eat illustrates the challenges of doing that and hints at the rewards. To their credit, Dornenburg and Page looked over a list of "corrections" related their beer entries and still were pleasant enough to answer questions via e-mail.
Why should you tell somebody (interested in beer) that you take beer seriously when there are a variety of "beer mistakes" in the book?
We're blaming neo-Prohibitionists.
How did you choose your experts? Oliver isn't the only one who talks about beer, but he is the only one specifically from the beer world.
Clearly the primarily thrust of What to Drink with What You Eat is on wine, and our primary sources restaurant sommeliers, but we consider our love of beverages democratic and wanted to also include a number of experts to round out such subjects as spirits, cocktails, coffee, tea, water, sparkling juices and – yes – beer.
We attended the IACP Cookbook Awards where Garrett had received his award for The Brewmaster's Table, which had brought that book – and Garrett himself – to our attention. Our Internet-based research had also unearthed Carlos Solis, described as "America's first beer sommelier," whose CIA degree and dual chef-sommelier position made him another interesting choice.
We'll look forward to the pleasure of interviewing other beer experts in the future.
Do you think its accurate to say that wine gets much more attention in the book? Why is that?
Yes. Readers of our previous books (e.g. Becoming a Chef, Culinary Artistry, Dining Out) tend to be fine dining enthusiasts as well as professional chefs and restaurant professionals, so our primary focus was on interviewing restaurant sommeliers for their expertise. While this is changing to include a fascinating array of beverage pairings (including sake, spirits, beer and non-alcoholic choices), their primary focus is still on wine.
Are there times you think beer and wine mix well on the same table?
Yes – when it's done thoughtfully. We have personally enjoyed beer as part of a tasting menu pairing with an appetizer or dessert, and appreciated when it's been served in an appropriate portion size and glassware to allow a smooth flow from one course to the next. Scott Tyree of TRU in Chicago has paired beer with a sausage-based appetizer, and chef Sandy D'Amato of Sanford in Milwaukee served us a dessert course paired with three different beverages – including a beer. During the course of our book tour, we've interested audiences in beer by having them taste a Belgian Framboise with cheesecake at the end of the meal, and watched the energy level go up because people just couldn't stop talking about it!
What did you learn about beer while writing the book?
We both hold sommelier certificates, and generally consider ourselves to be wine-centric (especially Andrew, who grew up in the Bay Area not far from Napa Valley) – but creating this book has helped to make us both more beverage-centric. We've learned that there are instances when the ideal match is something OTHER than wine. We once ordered in $10 enchiladas mole from our neighborhood Mexican restaurant and paired them with a $2 bottle of porter – and were absolutely blown away by how fabulous the match was. We swore there was no bottle of wine on earth that could have tasted as good with it!
We've also learned how biased many people are against beer, which just makes us want to crusade even harder FOR it. Many people, it seems, have formed their opinions about beer after sipping an uncle's Budweiser as a kid and being grossed out by its bitterness. Many otherwise worldly gastronomes haven't even bothered to sample the wide variety of beers that are out there in the world simply awaiting their pleasure – and it's a shame.
One of Karen's greatest accomplishments on our book tour was to get a woman TV anchor who said she hated beer to taste a Belgian (kriek) beer on camera, and to admit that she loved it! Wine drinkers can be brought over to become beer lovers, one person at a time – or, in the case of the TV show anchor, whose show is viewed by hundreds of thousands – many more at a time. They just need to try what's in the bottle.
We're proud of the chart "If You Like This, You Might Also Like That" on pp. 16-17 of WTDWWYE, which we hope will get more Champagne drinkers sampling lambic beers, and merlot drinkers sampling Chimay Blue, and Riesling drinkers sampling Hoegaarden White, etc.