By guest blogger Steve Herberger
Stan hit on a thought provoking and fun look into modern brewing history with his "10 Beers that Changed America." Some of us have different perspectives of the micro revolution, depending on where we experienced the new wonder of good beer. So Stan asked if I wanted to add my 10 Beers and opinions based on a midwest viewpoint, here are my thoughts, though I reserve the right to hedge based on failing memory over 23 years!
Please chime in, especially if you're from the Midwest.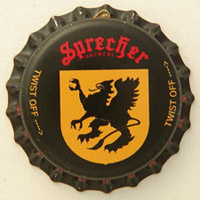 1. Sprecher Amber (I believe was their start up brew) – the first Micro I remember hearing about in this area right around the time it opened in '85. I can remember seeking out the brewery for a tour and purchases, parking in the lot of a closed factory close to where I*knew* the brewery was according to the map (pre-Internet and MapQuest), seeing a train blocking my route, crawling tentatively between 2 coupled cars and announcing, "There it is!" What a great tour and great beer – supplied by Randy Sprecher himself.
2. Goose Island Honkers Ale – from its first intro at 1800 Clybourn to distribution around the world. I was there too, when they opened in '88 – what a grubby looking neighborhood the Clybourn corridor once used to be. Thanks to GI, it's now one of the most busy retail areas in Chicago.
3. Bell's Amber – because it's their flagship brew and started a mini-revolution of local brewers who brewed for themselves and their customers, not what the market dictated.
4. Capital Garten Brau – the original Helles from Kirby, and what tha' – lager from a micro?!
5. Alpha King – 3 Floyds. No matter other opinions, I personally think this started the "extreme" trend — at least in hop-bombing.
6. Gray's Oatmeal Stout – A world class stout from a small micro that's still going strong after 20 years or so.
7. Mad Hatter – New Holland Brewing, the start up brew from a brewery that continues to produce outstanding products. (A tie with Michigan Brewing who landed the Celis White rights and recipe).
8. Riverwest Stein Beer – Lakefront Brewing, a cross between the upstart Bell's and Capital's recognition of the local heritage. Not to mention the Klisch brothers small pilot brewery on Milwaukee's Northeast side that grew into a larger micro that hasn't lost its roots in home-brewing. I remember my first taste of the Steinbeer from a tap at the brewery – man, what nectar.
9. The Bitter End Pale Ale – Cask Conditioned/Real Ale from an American micro? In a small Chicago suburb, no less? You betch'a!
10. Goose Island Bourbon County Stout – I have to give the nod to this because it highlights the progression, evolution, and advancement of what's becoming a world class brewery right in my own back yard.
Runners up – The previously mentioned August Schell Pilsner because its discovery got me interested in good beers that could come from small, regional breweries – in 1984 those were becoming near to extinct. And I'll even nod to the New Glarus Belgian Red, if for no other reason than it beat its peers at their own game – can't argue that, not to mention the success and other great beers from the Careys since 1993.