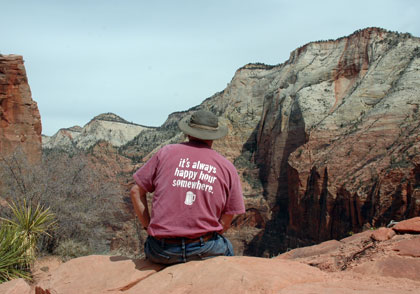 This photo comes with a disclaimer (what doesn't these days?) but that doesn't change the basics. Me, wearing an August Schell Brewing T-shirt, at Zion National Park.
Schell, of course, is the brewery name on everybody's lips after Jace Marti's great post on the company's Facebook (it drew 150 comments) that provided significant perspective to the "Craft vs. Crafty" kerfuffle.
Schell brews excellent beer, but drinking it will always be better because we visited the brewery in New Ulm. Definitely a "beer from a place" experience. I own the T-shirt (which is looking a little weary these days) because it was a prize given out during judging for the Upper Mississippi Mash-Out in January of 2008. When you signed in to judge that entered your name in a drawing. If it showed up on a list after a round of judging you could pick out a prize. Mine came up rather late, so I was plenty happy to see the T-shirt still there.
A few months later we were at Zion in southern Utah — the final shakedown cruise before our grand adventure. I was waiting for Daria and Sierra to return from a side adventure when I heard somebody behind me say, "I have to take a picture of that." I realized I was "that." She didn't care that the T-shirt was from one of America's oldest breweries, just about the message, "It's always happy hour somewhere."
After Daria and Sierra and returned we headed out I told them about what just happened. Daria made me go back and sit down. The result was the photo you see. Thus the disclaimer.