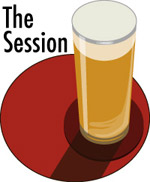 Host Ryan Newhouse has posted the topic for The Session #72: "How We Love Beer." Sort of a Valentine's Day theme. The key word in there, he points out, is how.
Think of this topic and discussion in terms of being in a relationship (again, a good primer for Valentine's Day!). You can say to your partner, "Honey, I love you." But think of the saying, "actions speak louder than words." From my personal experience, it's always better to show your partner the ways you love them instead of saying simply, "I love you because you make me happy."
How, rather than why. Ryan wants to make that clear: "Again, think of the phrase, 'actions speak louder than words,' so I'm not looking for what characteristics beer has that makes us love it, but what we do to show our love for it."
The Session is Feb. 1. Everybody is welcome to participate. Simply write a post and send Ryan a link.