Two news stories from yesterday:
- The Wall Street Journal reported reported that the trend toward "trading up" is slowing for many consumer products.
- The Brewers Association reported craft beer sales roared ahead at an 11% clip in the first half of 2006.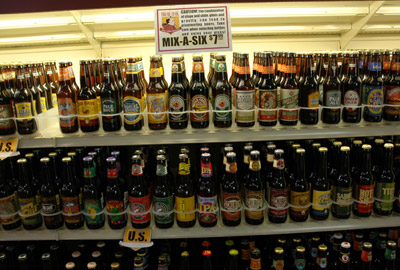 If the former trend continues through the coming months how long can the latter trend go on?
Any answer is a guess. For instance, Information Resources Inc. (IRI), which takes most of its data from grocery stores and supercenters, reported craft sales grew 12-13% in the first half of the year and dollar sales were up 15-16%. Those numbers don't include beers from many smaller brewers, and certainly not from brewpubs, but they indicate the inroads craft breweries have made.
Also, the WSJ story notes that because they are less likely to "trade up" that "middle-income families visiting more mass merchants and grocery stores than specialty outlets." Since they are more likely to find great beer in those stores than before they may consider that beer more necessity than "affordable luxury."
Plenty of reasons remain to be cautious. The Journal reports that Starbucks, Whole Foods and specialty-sandwich chain Panera Bread Co. all recently reported disappointing sales and pointed to higher gas price. Restaurants catering to middle-income consumers are seeing a sales slump too.
WSJ concludes by consulting Michael Silverstein, who co-authored the book Trading Up. He said middle-income shoppers are still trading up for high-end items, but are "'making much more deliberate choices and being much more tough-minded about what they want. . . . The investment thesis has to be: Are you generating heat? The companies that aren't are in trouble."
For now at least, craft brewers have plenty of heat.