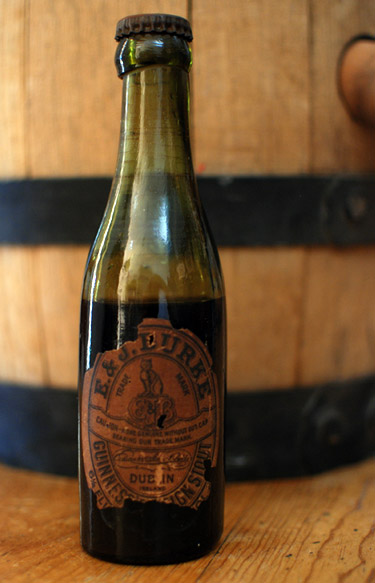 So if your wife gave you this bottle of Guinness Foreign Stout that obviously is quite old for Christmas would you open it to see what the beer inside it tasted like?
How old might it be?
E&J Burke had the rights to import Guinness going back to 1864, and the "Cat" trademark is almost as old. The Burke family was one of the biggest bottlers of Guinness for export and in the 1930s opened a brewery on Long Island, which they later sold to Guinness.
Martyn Cornell — the first book of his I bought was Beer Memorabilia — was kind enough to compare the label here with those in A Bottle of Guinness Please (a book I don't have) but couldn't find an exact match. It is similar to some from more than 100 years ago.
I asked him the same question as at the top. He tactfully pointed out the amount of beer the angels have claimed over the years, but was not altogether discouraging. "If any Brett survived alive you could be lucky."
So would you?