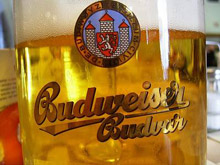 Would the beer world be a better place if Budweiser bought Budweiser?
Or put another way, would both American-owned Anheuser-Busch and Czech-owned Budejovicky Budvar be better off if A-B bought Budvar?
In the event you didn't already answer "no" and move on . . .
Evan Rail explains the ins and out of of privatizing (selling) Budvar in his new Beer Culture blog in the Prague Daily Monitor. Then he asks this question:
Yes, I know that sounds like sacrilege to many beer fans. But if Budvar is privatized, can you imagine that anyone other than Anheuser-Busch would end up owning it? And does anyone out there consider for a second that maybe, just maybe, this might be a good thing — and not only in terms of the reduced legal fees for both companies?
We also have we have this view form the A-B side of the ocean. Brew Blog reported Monday that analyst Stifel Nicolaus published a report titled "On BUD's Takeout Value."
It asked whether a buyer would pay "more than a typical takeout multiple for BUD." Absent a bidding war, Stifel's verdict was no.

Why? Largely because A-B remains underindexed in imports and crafts.
Although A-B distributes Budvar in the United States, where the beer is called Czechvar, that is different than owning the esteemed brewery.
As Brew Blog points out, we heard plenty of rumors about A-B and InBev during 2007. And if (obviously more like when) the dollar continues to struggle in 2008 and InBev's stock price grows stronger against A-B's then the possibility of a less-than-friendly takeover increases.