Having not been asked for two days what the heck Appellation Beer means I'm able to once again put off adding that explanation to About the Site.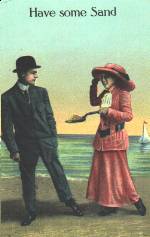 But I will write that one thing I want it to mean is that context makes a difference. Before you fire off another what the heck question, look at the contest Alan McLeod has invented at A Good Beer Blog. It illustrates the value of context.
Desert island beer lists. They've be around forever. A thread at Realbeer.com still lives after two years and is up to 10 pages. Fun to look at, but I've never been tempted. Really, and not just because even if you put a gun to my head I couldn't list my five favorite beers.
But this contest has context.
Instead of just any old three bottles, put one of the beers a keg that never goes dry or sours and the other two in bottles, one of which you can access on Friday in reasonable volume and one you can access on Sunday in a contemplative amount. In my life, I expect to be stuck on that Island a good long time and, yet, expect to maintain regular work week and also my northern European vague religiosity.
Fun to think about (over a beer), so I'm going to come up with an entry. You should too.
One pre-beer thought for now. Saison.