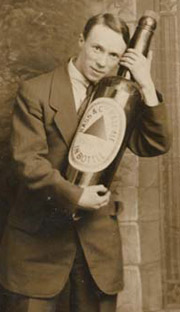 Might one of the side effects of higher beer prices turn out to be counterfeit bottles?
It's hard to imagine problems similar to those plaguing wine, as outlined at Slate, in the a very long story in The New Yorker, and at Wine Spectator. Even Sammy Hagar is worried about it.
But consider this lengthy conversation about fake barrel-aged bottles of AleSmith beers last week at Rate Beer. In this case we are talking about beer that changed hands in a trade and within a passionate community that has ways to police itself.
But what about when bottles of Stone Epic Vertical come up on eBay? This current auction is offering one bottle each from the first seven releases with a starting bid of $999.99.
Or when somebody buys a bottle of Firestone 10 (Firestone's anniversary beer released last year for $9.99) for $300?
It might not even be vintage beer. How about bottles from the Trappist monastery Saint Sixtus (Westvleteren)?
As Stephen Beaumont observes in the link above some of the people paying silly-ass prices for these beers don't even know what they are supposed to taste like.
Although attention in wine has focused on really expensive and collectible bottles, a newly minted website called WineAuthentication.com points out the problem includes more reasonably (this is a relative term) priced wines.
Even though by wine standards all beer is reasonably priced that doesn't make it immune to the problem.