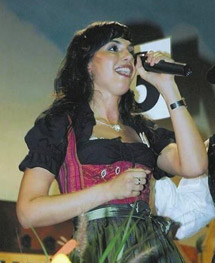 No, seriously.
Next week judges stream into Chicago to taste their way through 3,500 or so entrants in the World Beer Cup and soon they will be joined by thousands of brewing industry members for the Craft Brewers Conference.
I expect only the toughest will make it up Saturday morning for "Brewing Belgian White and Wit Beers," the panel I'll be moderating. Fortunately there will be many more exciting moments. First up, Wednesday afternoon is a chance to meet the Hallertau hop queen, Mona Euringer. She'll be in Chicago along with members of the German Hop Growers Association.
She'll give a brief talk about life on a hop farm and also be around for the trade show Thursday and Friday. Last year the hop growers caught some grief when it was suggested Nicol Frankl, the previous hop queen, was invited along only because she has a pretty face.
Not true. "To be elected hop queen, you have to have grown up and helped work on a hop farm all of your life, you have to know hops, hop farming, and all the machinery involved," said Eric Toft, brewmaster at Private Landbrauerei Schönram, who doubles as a representative of the hop growers.
I promise to find out just how much she knows. So if you have a question you want asked please leave it as a comment. As long as it's not rude I'll ask her.
The hop growers will also be serving a variety of beers. Toft wrote the recipes and Victory Brewing in Pennsylvania made the beers. They will include three different Belgian-style pale ales — each brewed with a single German aroma hop varieties: Hallertauer Mittelfruh, Smaragd, Hersbrucker — a new Bavarian-style pale ale, and a tripel hopped with Saphir.
I promise to ask questions first and drink beers later.