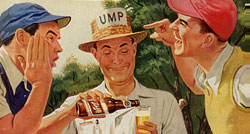 This review of Three Floyds Dreadnaught Imperial IPA tickled the heck out of me.
Jay at Hedonist Beer Jive gave it a 3.5 out of 10 and explained why. After reading his comments (please take the time to read the whole thing) my only question would be, "Why so high?"
He's pretty persuasive, writing among other things: "What I do have a beef with is the exaltation of extreme beers that taste like garbage, simply because they're BIG and DARING and OUTRAGEOUS." Can I have a Hallelujah?
So I've got an assessment from somebody whose palate I find myself in alignment with more often than not, a blogger I take the time to read because he doesn't always follow the crowd. Does that mean I should pass on Dreadnaught?
Since I've had the beer I could tell you that it would have been a mistake. I don't love Dreadnaught as much as the legions at Beer Advocate or Rate Beer, but I enjoy it.
Does this mean this is not a good tasting note? Or perhaps not a good one for me, but a good one for you?
(I think we can agree Nick Floyd wouldn't like it.)