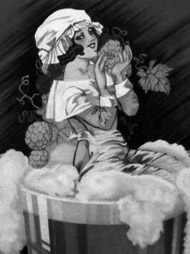 Merlot does not suck.
Oh, sorry, this is a beer blog. But before returning to beery talk this wine fact just in: Merlot made up 20% of the wine purchases made by a group labeled "image seekers," called that because they like to others to think they know a lot about wine, according to a 18-month study called Project Genome, conducted by The Nielsen Co. and released by Constellation Wines.
It seems that not everybody saw the movie Sideways. Or maybe consumers talk one way and buy another. Project Genome defines "image seekers are consumers who use the Internet to harvest factoids about wine and like to experiment with trendy wines and packaging." However, when they bought wine for home it was merlot.
So what's the beer of image seekers?
According to IRI the best selling craft style nationally is Pale ale. But in various parts of the country the leader may be Pale ale, wheat beers, bock or amber lagers.
Sour beers? Those red-hot Italians? Barrel aged? Nowhere to be seen.
How about IPA? Fifth in three different regions and fifth overall — with a bullet (up 34% in supermarkets in 2007).
Perhaps the next merlot.