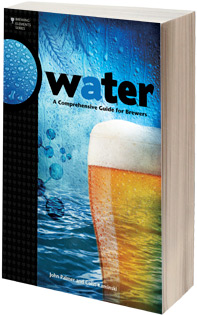 This can't be coincidence. Today we have:
- NBC Science explaining "No water, no beer: brewers race to save the ales." MillerCoors leads the pack, announcing today it has lowered the amount of water it uses to brew a barrel of beer to 3.82 to 1, compared to an industry-wide average of between 5 and 7 to 1.
- The Press Democrat writing about how several northern California breweries deal with wastewater, a particular problem for Lagunitas Brewing as it grows so quickly.
- A story about ensuring quality control at Odell Brewing and New Belgium Brewing digs deep into Fort Collins water. "We don't want you to be able to tell the difference between the two breweries," Lindsay Guerdrum, a New Belgium sensory scientist, said while discussing how the brewery can assure that beers made in Colorado and North Carolina (where it will next open a facility) will taste the same. "The challenges are going to come from a different climate, a different elevation."
So it seems appropriate that "Water: A Comprehensive Guide for Brewers" is available for pre-order and will ship in about two weeks.
(A bit of disclosure. "Water" is the third book in Brewers Publication's "ingredients" series. I wrote the second one, and Amazon.com suggests you might want to buy them together, or even along with "Yeast." The fourth book in the series, on malt, will be available next year.)