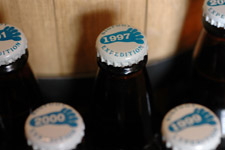 Here's another prediction for 2007 I should have made: Vintage beers will command more attention.
Item 1: Liquid Solutions, which sells beer through the mail and from its Oregon City store, plans to begin auctioning vintage beers next week (Jan. 19).
First up are a bottle of Chimay Grand Reserver from 1994, a six-year vertical of Sierra Nevada Big Foot from 1997-2002, and a 1996 bottle of Thomas Hardy's Ale.
Item 2: Manhattan's chic Gramercy Tavern now has a vintage menu that includes about 25 beers, created with the help of Brooklyn Brewery's Garrett Oliver.
"Generally they're stronger beers, darker beers. They're not kind of easy-drinking things; they're more for an after-dinner drink, good with cheese and chocolate dessert, that kind of thing," Kevin Garry, Gramercy's assistant beverage director, tells the New York Post.
The star of the list is the 1992 Thomas Hardy, which sells for $23 (that's a 6.33-ounce bottle). Oliver provided those bottles and says in the story, "It's almost a little underground secret among beer aficionados, you know, where you might be able to find the good stuff."
Or you can just be lucky. We always had a fond spot for Hardy's when it was brewed at the Eldridge Pope brewery, which we toured in 1994 (there are multiple stories there – including days of walking in the English countryside), but weren't really looking for it in Amarillo, Texas, in May of 1999.
While filling the gas tank before heading south to Palo Duro Canyon I noticed a liquor store next door, and since I was done pumping and Daria and Sierra were still inside the gas station I ducked into the store.
I spotted two four-packs of Thomas Hardy in one cooler, pulled them out and saw there were from 1992. There were $10.95 a four-pack. The clerk seemed a little surprised that somebody would be smiling so broadly while spending that much for eight small bottles.
Later a friend asked my why I hadn't suggested a discount because the beer was old. (Really.)