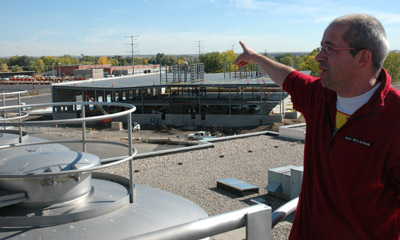 New Belgium Brewing's Peter Bouckaert gestures into the distance while giving a tour to members of the media who were in Colorado during the Great American Beer Festival, making a bit of a joke we'll get to in a moment.
This view is from the roof of the brewery. The building under construction is the new packaging facility. When it is complete New Belgium will be able to brew and ship 850,000 barrels of beer per year – and that's capacity for the current site.
What then? If you know just where to look in this photo you'll spot Anheuser-Busch's Fort Collins brewery (current capacity 10 million barrels) in the distance. New Belgium will take that over in 2010, Bouckaert said, smiling while adding "just kidding" in case the A-B employees on the tour (which next went to the A-B plant) were worried.
New Belgium shipped 370,000 barrels in 2005 and will likely sell about 435,000 in 2006. That number is constrained by the currently packaging line, which runs 24/7. "We're bottling gold," Bouckaert said.
Among items on display in one of the brewhouses (below) is the original five-hecoliter system that Jeff Lebesch began brewing on when he and his wife, Kim Jordan, started the brewery in the basement of their home. In front are a couple of the wine barrels that Bouckaert began experimenting with in the late 1990s (eventually producing La Foile). The Fat Tire bicycles to the right are examples of those each employee receives after one year of working at New Belgium. After five years they get a trip to Belgium.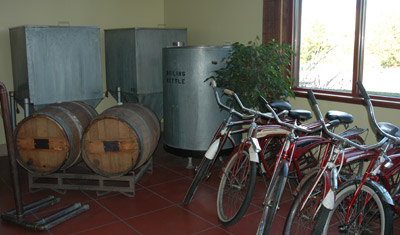 The photo below shows a mini-shrine hanging on one wall of the hospitality area of the brewery. Call it beer folk art.