Nice call to action by historian Maureen Ogle, author of Ambitious Brew: The Story of American Beer, in support of a national museum of brewing.
We're not simply talking about a place with some nifty breweriana on display, but a real museum. Ogle reports the Brewery Collectibles Club of America has taken the first steps to make this happen in St. Louis.
Ogle – after the Great American Beer Festival I hope to have lots from her about Ambitious Brew – points out that now is the time to start preserving the history of small breweries that emerged in the last 25 or so years. Remember what Don Younger, proprietor of the venerable Horse Brass Pub in Portland, Ore., said: ""We didn't know we were making history, nobody does at the time, or we would have written these things down."
Two suggestions for making it a success: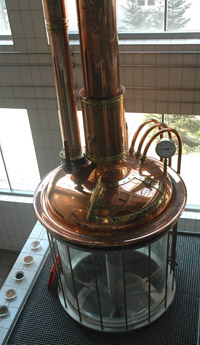 – Check out a few museums in Bavaria, where it seems every other town has some sort of beer library. They all have room after room of artifacts, but the best bring those to life.
In Kulmbach, for instance, you get a real sense of what it was like to be a brewery worker in the early 20th century (not an easy life at all). Bayerisches Brauereimuseum is located in the former Mönchsof Brewery and as well as showing you more glassware than you can imagine a tour includes the old brewing and engine rooms.
Beyond lots of old equipment you want to take home there's a glass – well, not totally glass – brewhouse (left) so tourists can appreciate just how the brewing process works.
In the heart of Halltertau, the largest hops growing region in the world, a full tour of the German Museum of Hops (Deutsches Hopfenmuseum) covering 11,000 square feet takes 90 minutes. An American museum would likely end up being larger than the one in Wolnzach (pictured below), but hopefully would show the same attention to detail.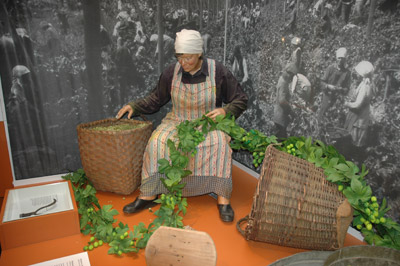 – Make it American, 21st century, interactive, fun. This suggestion may seem strange, but the Indiana High School Basketball Hall of Fame is an example is exactly what you'd expect of Indiana basketball. You can make a last-second basket to win the state championship. You can sit in on a John Wooden pep talk.
Anheuser-Busch, Miller, Ballantine, Schlitz and associates deserve a spot in any American brewing museum, but so do Jolly Pumpkin, Baderbrau (RIP) and Berkshire Brewing.
The BCCA has a great idea, worthy – as Ogle points out – of all our support. Various projects emerge from time to time – some are going now – but let's hope this one catches hold before more history is lost.