Brian Yaeger asks if "consistency is the fifth ingredient in beer" (the first four being those specified in Germany's beer purity law).
I find it easier to think about time as an ingredient. It adds to cost of production, and it influences the quality of the resulting beer, just like barley or hops. A beer that lagers six weeks occupies tank space that could have been used to produce three two-week lagers. Decoction makes a longer brew day. Beer properly bottle conditioning in a warm room is beer that could already by bringing in money were it otherwise carbonated.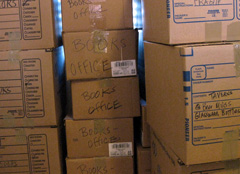 In all fairness, Brian's post is really intended to be more about the importance of consistency. There's a New Beer Rule (#4: The god of beer is not consistency) about that, but he's reminded me of the need for further discussion about the difference between quality control and blind devotion to "consistency." That's going to have to wait a couple of weeks, because there are comments from brewers somewhere in these boxes (or others) I want to include.
But a quick hint where I'll be going. I'm far less bothered when a brewer changes the blend of hop varieties in a particular beer based on the quality of a particular crop than when he or she is dry hopping a beer and she or he doesn't understand how that can affect diacetyl reduction. A little more or less marmalade on the nose this month is OK. A little more butter in the mouth is not.
Back to filling boxes.