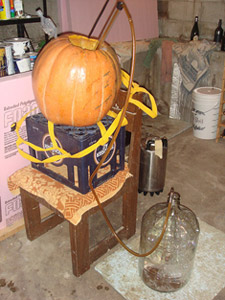 If a picture is worth a thousand words then 27 photos (at flickr) might be worth a million.
The Interstellar Galactic Brewery team carved one pumpkin to create a mash tun, then fermented in another.
What could be cooler? A three-tier pumpkin system, I guess. And maybe one in which the lid didn't collapse into the beer during fermentation. Looks as if they might end up with a wild pumpkin beer.
The search for a definition of beer terroir continues, but this could be part of it.
Thanks to Eric Trimmer at Trouble Brewing for spotting this.