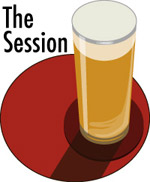 Twenty-four beer bloggers from 6 different countries and 3 different continents participated in The Session #91: My First Belgian. Breandán Kearney at Belgian Smaak has the roundup.
And host Jeremy Short has announced the theme for The Session #92: "I Made This." "The idea of this session is how making something changes your relationship with it," he explains. "For example, when I first started homebrewing I wasn't a big fan of lagers. After learning to brew I realized how complex and particular lagers were and I came to love them because of that." This theme is particularly homebrewer friendly, although Short doesn't want to make it exclusive. Here are a few of his suggestions.
For the homebrewer:
– How did homebrewing change your view of beer? Do you like beers now that you didn't before? Do you taste beer differently? Does homebrewing turn you into a pretentious asshole?
For the I only homebrewed once crowd:
– What was the experience like? Did you enjoy it? Hate it? Did you think about beer differently afterwards.
For the I have never homebrewed crowd:
– Maybe you had an experience at a brewery you would like to share? Maybe your toured a brewery and learned and experienced the making of beer that impacted the way you think of beer? Or maybe you've brewed in a professional setting?
For the I hate homebrewing crowd:
– Why? Why do you hate us so?
Session #92 is schedule for Oct. 3.